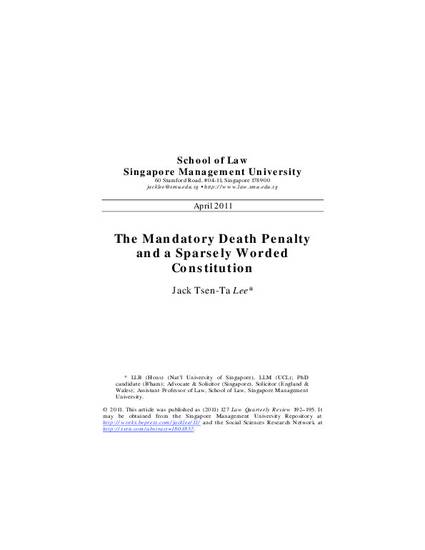 Article
The Mandatory Death Penalty and a Sparsely Worded Constitution
Law Quarterly Review (2011)
Abstract
It was not unexpected that the Singapore Court of Appeal would reaffirm the constitutionality of the mandatory death penalty for certain forms of drug trafficking in Yong Vui Kong v Public Prosecutor [2010] 3 S.L.R 489. ... The appellant made submissions based on Articles 9(1) and 12(1) of the Constitution, which respectively guarantee rights to life and personal liberty, and to equality before the law and equal protection of the law. This note examines aspects of the Article 9(1) arguments.
Keywords
Constitutionality,
death penalty,
drug trafficking,
right to life,
Singapore
Publication Date
April, 2011
Citation Information
Jack Tsen-Ta Lee. "The Mandatory Death Penalty and a Sparsely Worded Constitution"
Law Quarterly Review
Vol. 127 (2011)
Available at: http://works.bepress.com/jacklee/11/