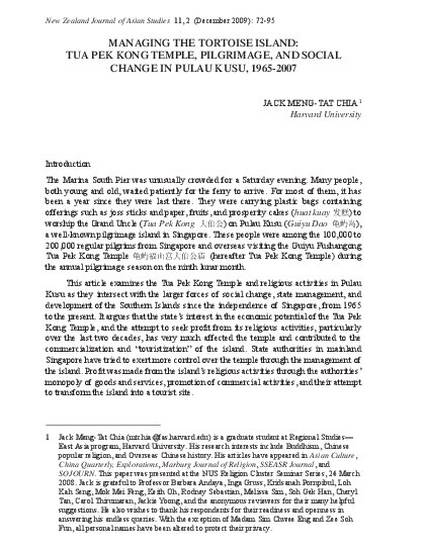 Article
Managing The Tortoise Island: Tua Pek Kong Temple, Pilgrimage, and Social Change in Pulau Kusu, 1965-2007
New Zealand Journal of Asian Studies (2009)
Abstract
This article examines the Tua Pek Kong Temple and religious activities in Pulau Kusu as they intersect with the larger forces of social change, state management, and development of the Southern Islands since the independence of Singapore, from 1965 to the present. It argues that the state's interest in the economic potential of the Tua Pek Kong Temple, and the attempt to seek profit from its religious activities, particularly over the last two decades, has very much affected the temple and contributed to the commercialization and "touristization" of the island. State authorities in mainland Singapore have tried to exert more control over the temple through the management of the island. Profit was made from the island's religious activities through the authorities' monopoly of goods and services, promotion of commercial activities, and their attempt to transform the island into a tourist site.
Publication Date
December, 2009
Citation Information
Chia, Jack Meng-Tat. "Managing The Tortoise Island: Tua Pek Kong Temple, Pilgrimage, and Social Change in Pulau Kusu, 1965-2007."
New Zealand Journal of Asian Studies
11, 2 (December 2009): 72-95.