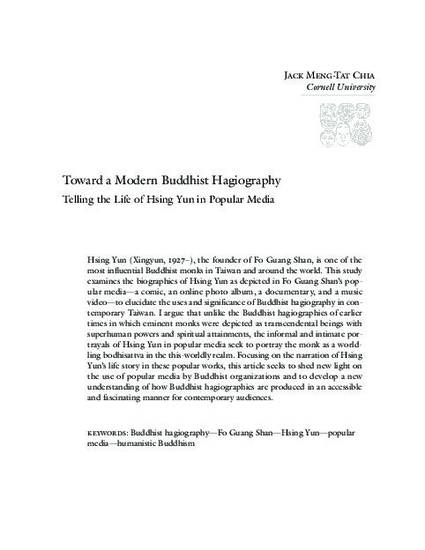 Article
Toward a Modern Buddhist Hagiography: Telling the Life of Hsing Yun in Popular Media
Asian Ethnology (2015)
Abstract
Hsing Yun (Xingyun, 1927–), the founder of Fo Guang Shan, is one of the most in uential Buddhist monks in Taiwan and around the world. This study examines the biographies of Hsing Yun as depicted in Fo Guang Shan's pop- ular media—a comic, an online photo album, a documentary, and a music video—to elucidate the uses and signi cance of Buddhist hagiography in con- temporary Taiwan. I argue that unlike the Buddhist hagiographies of earlier times in which eminent monks were depicted as transcendental beings with superhuman powers and spiritual attainments, the informal and intimate por- trayals of Hsing Yun in popular media seek to portray the monk as a world- ling bodhisattva in the this-worldly realm. Focusing on the narration of Hsing Yun's life story in these popular works, this article seeks to shed new light on the use of popular media by Buddhist organizations and to develop a new understanding of how Buddhist hagiographies are produced in an accessible and fascinating manner for contemporary audiences. 
Keywords
Buddhist hagiography,
Fo Guang Shan,
Hsing Yun,
popular media,
humanistic Buddhism
Citation Information
Jack Meng-Tat Chia. "Toward a Modern Buddhist Hagiography: Telling the Life of Hsing Yun in Popular Media"
Asian Ethnology
Vol. 74 Iss. 1 (2015) p. 141 - 165
Available at: http://works.bepress.com/jackchia/21/