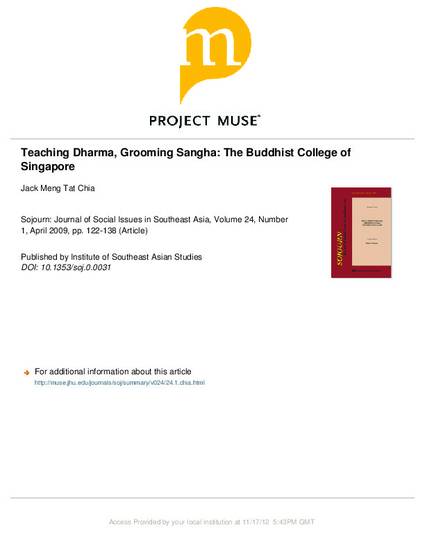 Article
Teaching Dharma, Grooming Sangha: The Buddhist College of Singapore
SOJOURN: Journal of Social Issues in Southeast Asia (2009)
Abstract
This article is a preliminary observation of the recently established Buddhist College of Singapore (BCS). It seeks to propose, building on Kuah Khun Eng's notion of "Reformist Buddhism", that the college can be seen as a product of the Reformist Buddhist movement in Singapore. By positioning the BCS within this larger context of Reformist Buddhist movement, this article argues that Reformist Buddhism has legitimized the process of rationalization and bureaucratization of the Buddhist institutions in the country. This has, to a large extent, contributed to the organizational and educational structure of the BCS.
Publication Date
April, 2009
Citation Information
Chia, Jack Meng-Tat. "Teaching Dharma, Grooming Sangha: The Buddhist College of Singapore."
SOJOURN: Journal of Social Issues in Southeast Asia
24, 1 (April 2009): 122-138.