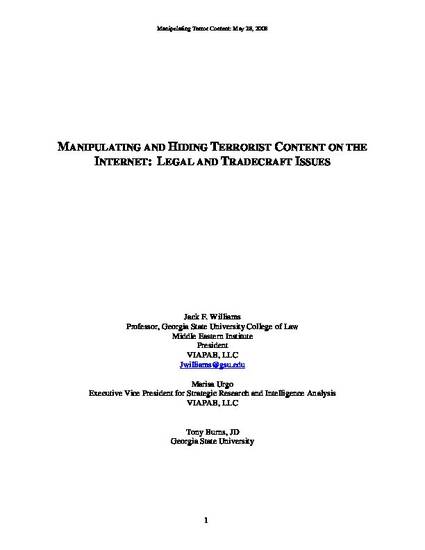 Unpublished Paper
Manipulating andHiding Terrorist Content on the Internet: Legal and Tradecraft Issues
ExpressO (2008)
Abstract
The global war on terror ("GWOT") is being fought on many levels. In addition to traditional terror and counterterror activity, both sides are engaged in a public relations and propaganda war, employing the media, willingly and unwillingly, to support their positions. Hovering over these war campaigns are information technologies, which include the Internet. This article provides an introduction to various online content concealing practices that have been employed by those seeking to conceal or limit access to information on the Internet, including terrorist organizations. Further, there is a discussion on tracking and monitoring of website visitors. After reviewing open source information and websites, this article examines techniques and technologies that are easily available to terrorist organizations -- foreign and domestic -- whose structure can be obtained through Internet websites. The article then turns to a discussion of the legal issues posed by active and passive website monitoring techniques. To those who may assert that this article teaches the enemies of the United States new tactics and countermeasures, we note that the topics discussed in this article are culled from open-source information and are well-publicized and well-known tactics and measures. For obvious reasons, we have purposefully excluded certain tactics and countermeasures that may not be as well known.
Keywords
National Security,
Terrorist Use of Web,
Privacy,
Surveillance
Publication Date
May 27, 2008
Citation Information
Jack F Williams. "Manipulating andHiding Terrorist Content on the Internet: Legal and Tradecraft Issues"
ExpressO
(2008)
Available at: http://works.bepress.com/jack_williams/1/