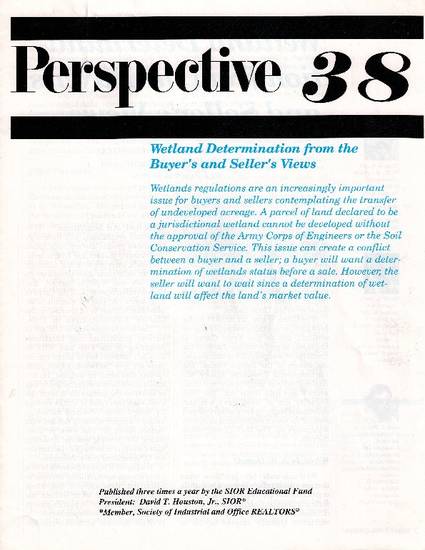 Article
Morris et al., Wetland Determination etc, Perspective 38 (Society of Industrial and Office Realtors 1993)
Perspective 38 (Society of Industrial and Office Realtors 1993) (1993)
Abstract
Wetlands regulations are an increasingly important issue for buyers and sellers contemplating the transfer of undeveloped acreage. A parcel of land declared to bea jurisdictional wetland cannot be developed without the approval of the Army Corps of Engineers or the Soil Conservation Service. This issue can create a conflict between abuyer and a seller; a buyer will want a determination of wetlands status before a sale. However, the seller will want to wait since a determination of wetland will affect the land's market value.
Keywords
real estate,
law,
Clean Water Act,
wetlands
Citation Information
Jack E Morris, David C. Loeb and Wade R. Ragas. "Morris et al., Wetland Determination etc, Perspective 38 (Society of Industrial and Office Realtors 1993)"
Perspective 38 (Society of Industrial and Office Realtors 1993)
(1993)
Available at: http://works.bepress.com/jack_morris/7/