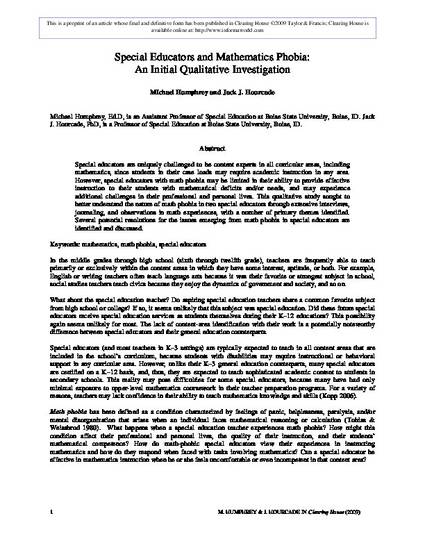 Article
Special Educators and Mathematics Phobia: An Initial Qualitative Investigation
The Clearing House: A Journal of Educational Strategies, Issues and Ideas
Publication Date
10-1-2009
DOI
http://dx.doi.org/10.1080/00098650903267743
Abstract
Special educators are uniquely challenged to be content experts in all curricular areas, including mathematics, since students in their case loads may require academic instruction in any area. However, special educators with math phobia may be limited in their ability to provide effective instruction to their students with mathematical deficits and/or needs, and may experience additional challenges in their professional and personal lives. This qualitative study sought to better understand the nature of math phobia in two special educators through extensive interviews, journaling, and observations in math experiences, with a number of primary themes identified. Several potential resolutions for the issues emerging from math phobia in special educators are identified and discussed.
Copyright Statement
This is an author-produced, peer-reviewed version of this article. The final, definitive version of this document can be found online at The Clearing House: A Journal of Educational Strategies, Issues and Ideas, published by Taylor & Francis. Copyright restrictions may apply. DOI: 10.1080/00098650903267743
Citation Information
Michael Humphrey and Jack J. Hourcade. "Special Educators and Mathematics Phobia: An Initial Qualitative Investigation"
The Clearing House: A Journal of Educational Strategies, Issues and Ideas
(2009)
Available at: http://works.bepress.com/jack_hourcade/5/