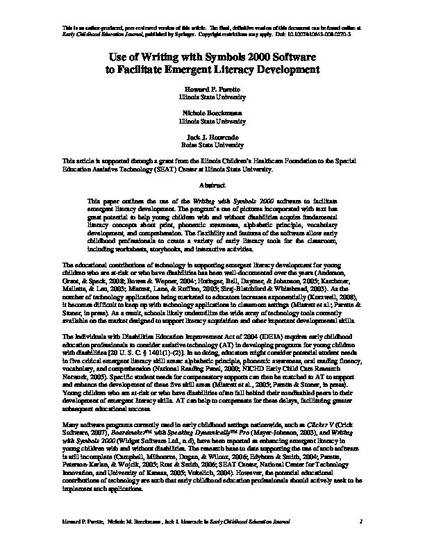 Article
Use of Writing with Symbols 2000 Software to Facilitate Emergent Literacy Development
Early Childhood Education Journal
Publication Date
7-16-2008
DOI
http://dx.doi.org/10.1007/s10643-008-0270-3
Abstract
This paper outlines the use of the Writing with Symbols 2000 software to facilitate emergent literacy development. The program's use of pictures incorporated with text has great potential to help young children with and without disabilities acquire fundamental literacy concepts about print, phonemic awareness, alphabetic principle, vocabulary development, and comprehension. The flexibility and features of the software allow early childhood professionals to create a variety of early literacy tools for the classroom, including worksheets, storybooks, and interactive activities.
Copyright Statement
This is an author-produced, peer-reviewed version of this article. The final, definitive version of this document can be found online at Early Childhood Education Journal, published by Springer. Copyright restrictions may apply. doi:
10.1007/s10643-008-0270-3
Citation Information
Howard P. Parette, Nichole Boeckmann and Jack J. Hourcade. "Use of Writing with Symbols 2000 Software to Facilitate Emergent Literacy Development"
Early Childhood Education Journal
(2008)
Available at: http://works.bepress.com/jack_hourcade/3/