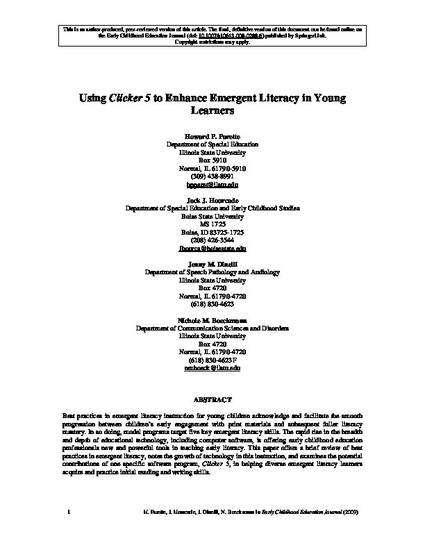 Article
Using Clicker 5 to Enhance Emergent Literacy in Young Learners
Early Childhood Education Journal
Publication Date
10-24-2008
DOI
http://dx.doi.org/10.1007/s10643-008-0288-6
Abstract
Best practices in emergent literacy instruction for young children acknowledge and facilitate the smooth progression between children's early engagement with print materials and subsequent fuller literacy mastery. In so doing, model programs target five key emergent literacy skills. The rapid rise in the breadth and depth of educational technology, including computer software, is offering early childhood education professionals new and powerful tools in teaching early literacy. This paper offers a brief review of best practices in emergent literacy, notes the growth of technology in this instruction, and examines the potential contributions of one specific software program, Clicker 5, in helping diverse emergent literacy learners acquire and practice initial reading and writing skills.
Copyright Statement
This is an author-produced, peer-reviewed version of this article. The final, definitive version of this document can be found online on the Early Childhood Education Journal published by SpringerLink. Copyright restrictions may apply. DOI:
10.1007/s10643-008-0288-6
Citation Information
Howard P. Parette, Jack Hourcade, Jenny M. Dinelli and Nichole M. Boeckmann. "Using Clicker 5 to Enhance Emergent Literacy in Young Learners"
Early Childhood Education Journal
(2008)
Available at: http://works.bepress.com/jack_hourcade/2/