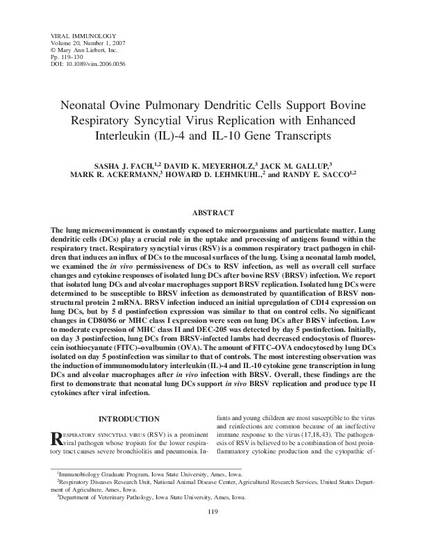 Article
Neonatal Ovine Pulmonary Dendritic Cells Support Bovine Respiratory Syncytial Virus Replication with Enhanced Interleukin (IL)-4 And IL-10 Gene Transcripts
Viral Immunology
Publication Date
4-10-2007
DOI
10.1089/vim.2006.0056
Abstract
The lung microenvironment is constantly exposed to microorganisms and particulate matter. Lung dendritic cells (DCs) play a crucial role in the uptake and processing of antigens found within the respiratory tract. Respiratory syncytial virus (RSV) is a common respiratory tract pathogen in children that induces an influx of DCs to the mucosal surfaces of the lung. Using a neonatal lamb model, we examined the in vivo permissiveness of DCs to RSV infection, as well as overall cell surface changes and cytokine responses of isolated lung DCs after bovine RSV (BRSV) infection. We report that isolated lung DCs and alveolar macrophages support BRSV replication. Isolated lung DCs were determined to be susceptible to BRSV infection as demonstrated by quantification of BRSV non-structural protein 2 mRNA. BRSV infection induced an initial upregulation of CD14 expression on lung DCs, but by 5 d postinfection expression was similar to that on control cells. No significant changes in CD80/86 or MHC class I expression were seen on lung DCs after BRSV infection. Low to moderate expression of MHC class II and DEC-205 was detected by day 5 postinfection. Initially, on day 3 postinfection, lung DCs from BRSV-infected lambs had decreased endocytosis of fluorescein isothiocyanate (FITC)–ovalbumin (OVA). The amount of FITC–OVA endocytosed by lung DCs isolated on day 5 postinfection was similar to that of controls. The most interesting observation was the induction of immunomodulatory interleukin (IL)-4 and IL-10 cytokine gene transcription in lung DCs and alveolar macrophages after in vivo infection with BRSV. Overall, these findings are the first to demonstrate that neonatal lung DCs support in vivo BRSV replication and produce type II cytokines after viral infection.
Copyright Owner
Mary Ann Liebert, Inc.
File Format
application/pdf
Citation Information
Sasha J. Fach, David K. Meyerholz, Jack M. Gallup, Mark R. Ackermann, et al.. "Neonatal Ovine Pulmonary Dendritic Cells Support Bovine Respiratory Syncytial Virus Replication with Enhanced Interleukin (IL)-4 And IL-10 Gene Transcripts"
Viral Immunology
Vol. 20 Iss. 1 (2007) p. 119 - 130
Available at: http://works.bepress.com/jack_gallup/25/