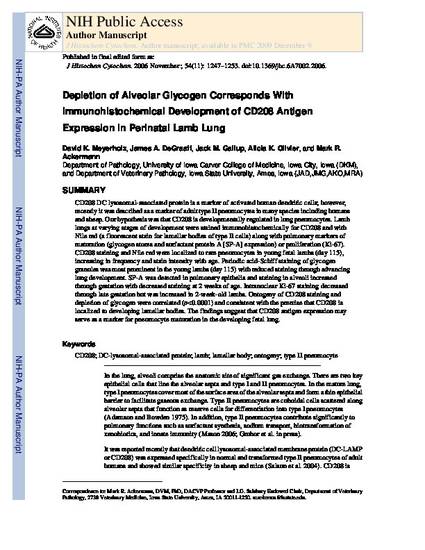 Article
Depletion of alveolar glycogen corresponds with immunohistochemical development of CD208 antigen expression in perinatal lamb lung
Journal of Histochemistry and Cytochemistry
Publication Date
11-1-2006
DOI
10.1369/jhc.6A7002.2006
Abstract
CD208 DC lysosomal-associated protein is a marker of activated human dendritic cells; however, recently it was described as a marker of adult type II pneumocytes in many species including humans and sheep. Our hypothesis was that CD208 is developmentally regulated in lung pneumocytes. Lamb lungs at varying stages of development were stained immunohistochemically for CD208 and with Nile red (a fluorescent stain for lamellar bodies of type II cells) along with pulmonary markers of maturation (glycogen stores and surfactant protein A [SP-A] expression) or proliferation (Ki-67). CD208 staining and Nile red were localized to rare pneumocytes in young fetal lambs (day 115), increasing in frequency and stain intensity with age. Periodic acid-Schiff staining of glycogen granules was most prominent in the young lambs (day 115) with reduced staining through advancing lung development. SP-A was detected in pulmonary epithelia and staining in alveoli increased through gestation with decreased staining at 2 weeks of age. Intranuclear Ki-67 staining decreased through late gestation but was increased in 2-week-old lambs. Ontogeny of CD208 staining and depletion of glycogen were correlated (p<0.0001) and consistent with the premise that CD208 is localized to developing lamellar bodies. The findings suggest that CD208 antigen expression may serve as a marker for pneumocyte maturation in the developing fetal lung.
Copyright Owner
The Histochemical Society, Inc.
File Format
application/pdf
Citation Information
David K. Meyerholz, James A. DeGraaf, Jack M. Gallup, Alicia Kathleen Olivier, et al.. "Depletion of alveolar glycogen corresponds with immunohistochemical development of CD208 antigen expression in perinatal lamb lung"
Journal of Histochemistry and Cytochemistry
Vol. 54 Iss. 11 (2006) p. 1247 - 1253
Available at: http://works.bepress.com/jack_gallup/17/