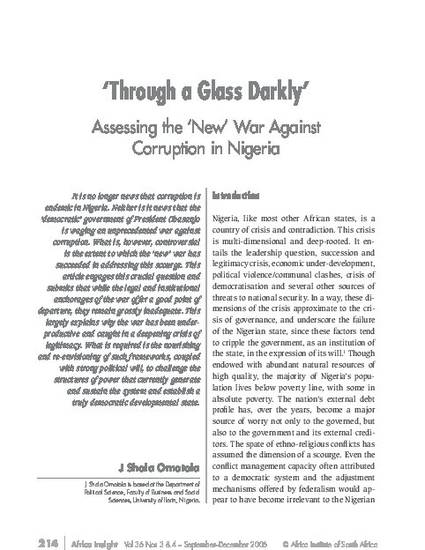 Article
Through A Glass Darkly': Assessing the 'New' War against Corruption in Nigeria
Africa Insight (2006)
Abstract
It is no longer news that corruption is endemic in Nigeria. Neither is it news that the 'democratic' government of President Obasanjo is waging an unprecedented war against corruption. What is, however, controversial is the extent to which the 'new' war has succeeded in addressing this scourge. This article engages this crucial question and submits that while the legal and institutional anchorages of the war offer a good point of departure, they remain grossly inadequate. This largely explains why the war has been underproductive and caught in a deepening crisis of legitimacy. What is required is the nourishing and re-envisioning of such frameworks, coupled with strong political will, to challenge the structures of power that currently generate and sustain the system and establish a truly democratic developmental state.
Keywords
A Glass Darkly,
corruption,
anti-corruption,
ICPC,
EFCC,
Nigeria
Citation Information
Shola J. Omotola. "Through A Glass Darkly': Assessing the 'New' War against Corruption in Nigeria"
Africa Insight
Vol. 36 Iss. 3-4 (2006)
Available at: http://works.bepress.com/j_shola_omotola/8/