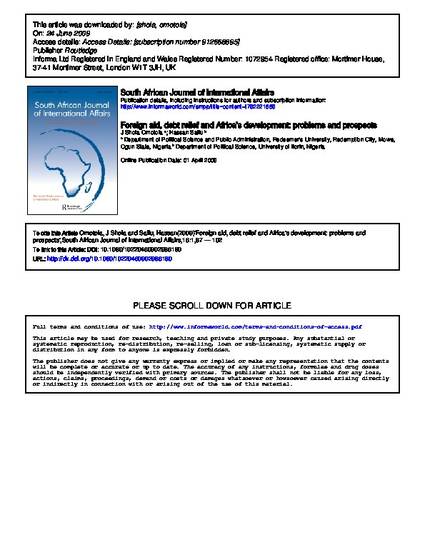 Article
Foreign Aid, Debt Relief and Africa's Development: Problems and Prospects
South African Journal of International Affairs (2009)
Abstract
In recent years, the Paris club granted a number of African countries, including Nigeria, debt relief. This elicited widespread celebration in the capital cities of affected countries, where it was portrayed as averitable launch-pad to Africa's development. This paper takes a critical look at the debt relief, with emphasis on its problems and prospects for Africa's development. It is argued that while debt relief does offer some prospects for development, there is little or no evidence to suggest that such an outcome is automatic. The conditions that precipitated the debt crisis in the first instance, including an inequitable international economic order and political conditions tied to aid, are still very present in the debt relief regime. Corruption of the foreign aid regime by both internal and external actors has been compounded by the recent global economic crisis, posing further constraints on the effectiveness of foreign aid in Africa. If debt relief must yield the desired result, it has to be accompanied by a sustainable campaign to fundamentally reformtheworld order to make it more equitable, together with a drive for good governance that is not only democratic, but also efficient and development-oriented in Africa.
Keywords
Foreign aid,
debt burden; development; international economic governance; good governance; IMF; World Bank; SAPs
Publication Date
April, 2009
Citation Information
Shola J. Omotola and Hassan A. Saliu. "Foreign Aid, Debt Relief and Africa's Development: Problems and Prospects"
South African Journal of International Affairs
Vol. 16 Iss. 1 (2009)
Available at: http://works.bepress.com/j_shola_omotola/5/