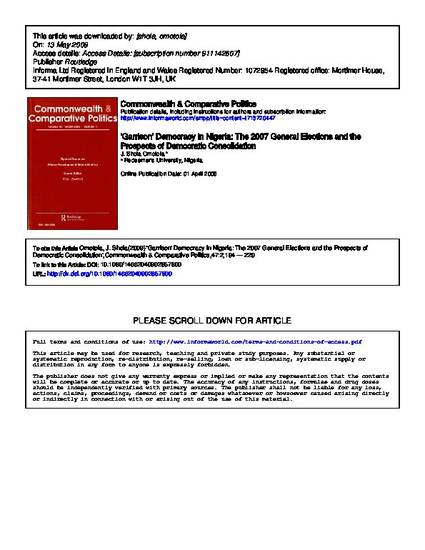 Article
Garrison' Democracy in Nigeria: The 2007 General Elections and the Prospects of Democratic Consolidation
Commonwealth and Comparative Politics (2009)
Abstract
This paper undertakes a critical analysis of the 2007 Nigeria's general elections, with emphasis on the 'garrison' process and its implications for the consolidation of democracy. It is argued that garrisoned electoral processes represent a powerful source of democratic instability that can threaten the consolidation of democracy. The paper illustrates these processes and concludes that much will, however, depend on how 'winners' and 'losers' manage their successes and failures, respectively. The greatest threats to the consolidation of democracy in the aftermath of the garrisoned elections relate to the handling of post-election issues, especially election petitions, tribunals and court processes, by all stakeholders in the democratisation process. So far, these issues would appear largely to have been properly handled by all affected parties, raising hopes of the possibility of mitigating potential pitfalls. Sustained efforts are required both to ensure that these democratic gains endure and in order to avoid democratic regression, potentially leading to military intervention.
Keywords
democracy,
democratic consolidation,
garrison democracy,
election,
Nigeria
Publication Date
April, 2009
Citation Information
Shola J. Omotola. "Garrison' Democracy in Nigeria: The 2007 General Elections and the Prospects of Democratic Consolidation"
Commonwealth and Comparative Politics
Vol. 47 Iss. 2 (2009)
Available at: http://works.bepress.com/j_shola_omotola/1/