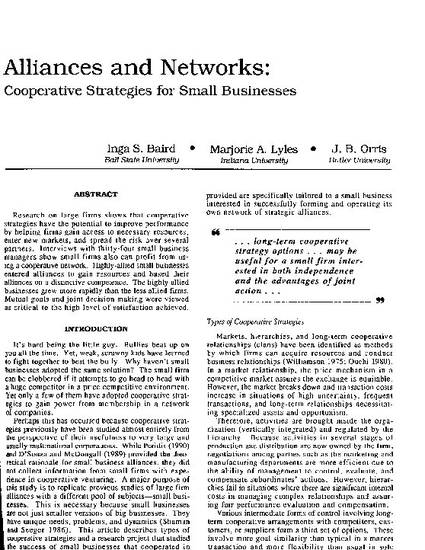 Article
Alliances and Networks: Cooperative Strategies for Small Businesses
American Journal of Business
Publication Date
1-1-1993
DOI
http://dx.doi.org/10.1108/19355181199300003
Abstract
Research on large firms shows that cooperative strategies have the potential to improve performance by helping firms gain access to necessary resources, enter new markets, and spread the risk over several partners. Interviews with thirty-four small business managers show small firms also can profit from using a cooperative network. Highly-allied small businesses entered alliances to gain resources and based their alliances on a distinctive competence. The highly allied businesses grew more rapidly than the less allied firms. Mutual goals and joint decision making were viewed as critical to the high level of satisfaction achieved.
Rights
'This article is © Emerald Group Publishing and permission has been granted for this version to appear here. Emerald does not grant permission for this article to be further copied/distributed or hosted elsewhere without the express permission from Emerald Group Publishing Limited.'
Citation Information
L. S. Baird, M. A. Lyles and J. Burdeane Orris. "Alliances and Networks: Cooperative Strategies for Small Businesses"
American Journal of Business
Vol. 8 Iss. 1 (1993) p. 17 - 24
Available at: http://works.bepress.com/j_orris/15/