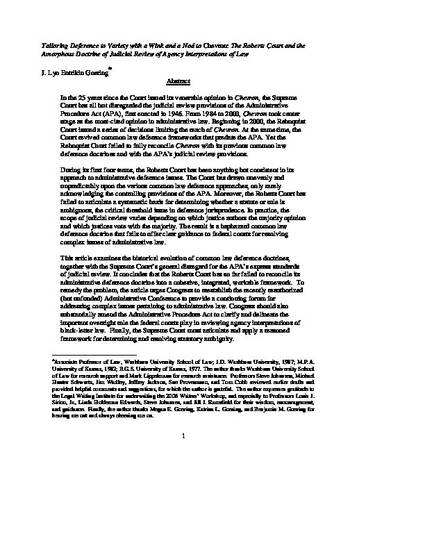 Unpublished Paper
TAILORING DEFERENCE TO VARIETY WITH A WINK AND A NOD TO CHEVRON: THE ROBERTS COURT AND THE AMORPHOUS JUDICIAL FRAMEWORK FOR REVIEW OF AGENCY INTERPRETATIONS OF LAW
ExpressO (2009)
Abstract
In the 25 years since the Court issued its venerable opinion in Chevron, the Supreme Court has all but disregarded the judicial review provisions of the Administrative Procedure Act (APA), first enacted in 1946. From 1984 to 2000, Chevron took center stage as the most-cited opinion in administrative law. Beginning in 2000, the Rehnquist Court issued a series of decisions limiting the reach of Chevron. At the same time, the Court revived common law deference frameworks that predate the APA. Yet the Rehnquist Court failed to fully reconcile Chevron with its previous common law deference doctrines and with the APA's judicial review provisions. During its first four terms, the Roberts Court has been anything but consistent in its approach to administrative deference issues. The Court has drawn unevenly and unpredictably upon the various common law deference approaches, only rarely acknowledging the controlling provisions of the APA. Moreover, the Roberts Court has failed to articulate a systematic basis for determining whether a statute or rule is ambiguous, the critical threshold issue in deference jurisprudence. In practice, the scope of judicial review varies depending on which justice authors the majority opinion and which justices vote with the majority. The result is a haphazard common law deference doctrine that fails to offer clear guidance to federal courts for resolving complex issues of administrative law. This article examines the historical evolution of common law deference doctrines, together with the Supreme Court's general disregard for the APA's express standards of judicial review. It concludes that the Roberts Court has so far failed to reconcile its administrative deference doctrine into a cohesive, integrated, workable framework. To remedy the problem, the article urges Congress to reestablish the recently reauthorized (but unfunded) Administrative Conference to provide a continuing forum for addressing complex issues pertaining to administrative law. Congress should also substantially amend the Administrative Procedure Act to clarify and delineate the important oversight role the federal courts play in reviewing agency interpretations of black-letter law. Finally, the Supreme Court must articulate and apply a reasoned framework for determining and resolving statutory ambiguity.
Keywords
Administrative Law,
Judicial Review,
Statutory Interpretation,
Legislation,
Regulation,
Standards of Review,
Statutes,
Chevron,
Mead,
Skidmore,
Auer
Publication Date
August 13, 2009
Citation Information
J. Lyn Entrikin Goering. "TAILORING DEFERENCE TO VARIETY WITH A WINK AND A NOD TO CHEVRON: THE ROBERTS COURT AND THE AMORPHOUS JUDICIAL FRAMEWORK FOR REVIEW OF AGENCY INTERPRETATIONS OF LAW"
ExpressO
(2009)
Available at: http://works.bepress.com/j_lyn_goering/1/