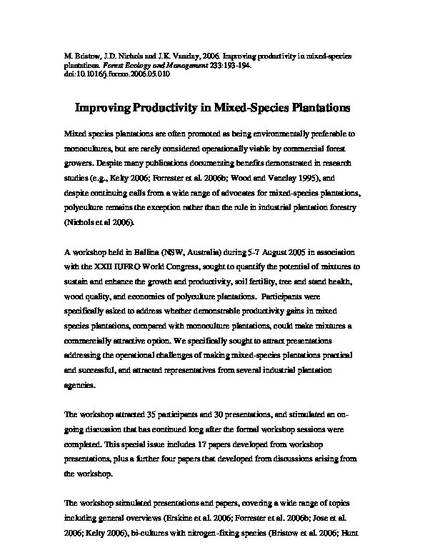 Article
Improving productivity in mixed-species plantations
Forest Ecology and Management
Publication Date
1-1-2006
Peer Reviewed
Peer-Reviewed
Abstract
Mixed species plantations are often promoted as being environmentally preferable to monocultures, but are rarely considered operationally viable by commercial forest growers. Despite many publications documenting benefits demonstrated in research studies (e.g., Kelty 2006; Forrester et al. 2006b; Wood and Vanclay 1995), and despite continuing calls from a wide range of advocates for mixed-species plantations, polyculture remains the exception rather than the rule in industrial plantation forestry (Nichols et al 2006)...
Citation Information
Post-print of: Bristow, M, Nichols, JD & Vanclay, JK 2006, 'Improving productivity in mixed-species plantations',
Forest Ecology and Management
, vol. 233, no. 2-3, pp. 193-194.
Forest Ecology and Management home page available at www.elsevier.com/locate/foreco
Publisher's version of article available at http://dx.doi.org/10.1016/j.foreco.2006.05.010