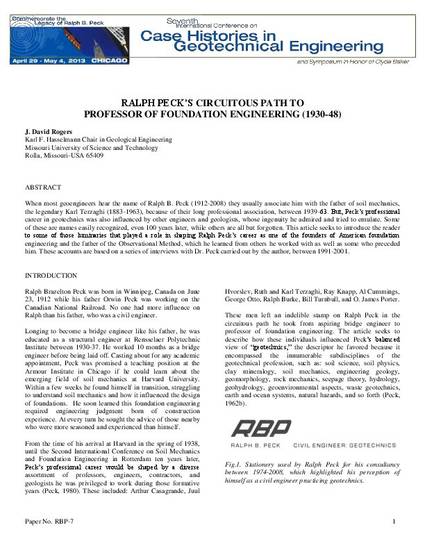 Article
Ralph Peck's Circuitous Path to Professor of Foundation Engineering (1930-48)
International Conference on Case Histories in Geotechnical Engineering
Location
Chicago, Illinois
Date
01 May 2013, 11:30 am - 11:50 am
Abstract
When most geoengineers hear the name of Ralph B. Peck (1912-2008) they usually associate him with the father of soil mechanics, the legendary Karl Terzaghi (1883-1963), because of their long professional association, between 1939-63. But, Peck's professional career in geotechnics was also influenced by other engineers and geologists, whose ingenuity he admired and tried to emulate. Some of these are names easily recognized, even 100 years later, while others are all but forgotten. This article seeks to introduce the reader to some of those luminaries that played a role in shaping Ralph Peck's career as one of the founders of American foundation engineering and the father of the Observational Method, which he learned from others he worked with as well as some who preceded him. These accounts are based on a series of interviews with Dr. Peck carried out by the author, between 1991-2001.
Department(s)
Civil, Architectural and Environmental Engineering
Second Department
Geosciences and Geological and Petroleum Engineering
Meeting Name
7th Conference of the International Conference on Case Histories in Geotechnical Engineering
Publisher
Missouri University of Science and Technology
Publication Date
4-29-2013
Document Version
Final Version
Rights
© 2013 Missouri University of Science and Technology, All rights reserved.
Creative Commons Licensing
Creative Commons Attribution-Noncommercial-No Derivative Works 4.0
Document Type
Article - Conference proceedings
Citation Information
J. David Rogers. "Ralph Peck's Circuitous Path to Professor of Foundation Engineering (1930-48)" (2013)
Available at: http://works.bepress.com/j-rogers/56/