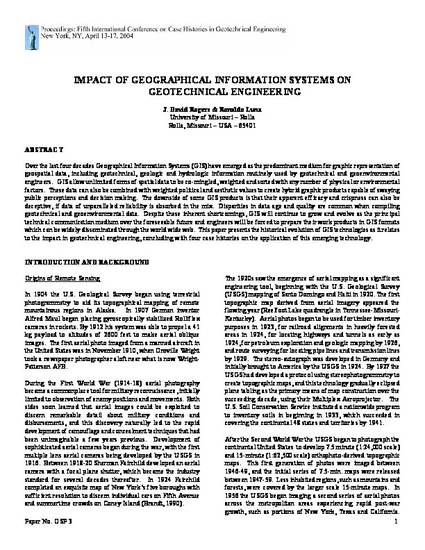 Article
Impact of Geographical Information Systems on Geotechnical Engineering
International Conference on Case Histories in Geotechnical Engineering
Location
New York, New York
Date
13 Apr 2004 - 17 Apr 2004
Abstract
Over the last four decades Geographical Information Systems (GIS) have emerged as the predominant medium for graphic representation of geospatial data, including geotechnical, geologic and hydrologic information routinely used by geotechnical and geoenvironmental engineers. GIS allow unlimited forms of spatial data to be co-mingled, weighted and sorted with any number of physical or environmental factors. These data can also be combined with weighted political and aesthetic values to create hybrid graphic products capable of swaying public perceptions and decision making. The downside of some GIS products is that their apparent efficacy and crispness can also be deceptive, if data of unparalleled reliability is absorbed in the mix. Disparities in data age and quality are common when compiling geotechnical and geoenvironmental data. Despite these inherent shortcomings, GIS will continue to grow and evolve as the principal technical communication medium over the foreseeable future and engineers will be forced to prepare their work products in GIS formats which can be widely disseminated through the world wide web. This paper presents the historical evolution of GIS technologies as it relates to the impact in geotechnical engineering, concluding with four case histories on the application of this emerging technology.
Department(s)
Civil, Architectural and Environmental Engineering
Appears In
International Conference on Case Histories in Geotechnical Engineering
Meeting Name
5th Conference of the International Conference on Case Histories in Geotechnical Engineering
Publisher
University of Missouri--Rolla
Publication Date
4-13-2004
Document Version
Final Version
Rights
© 2004 University of Missouri--Rolla, All rights reserved.
Creative Commons Licensing
Creative Commons Attribution-Noncommercial-No Derivative Works 4.0
Document Type
Article - Conference proceedings
Citation Information
J. David Rogers and Ronaldo Luna. "Impact of Geographical Information Systems on Geotechnical Engineering" (2004)
Available at: http://works.bepress.com/j-rogers/39/