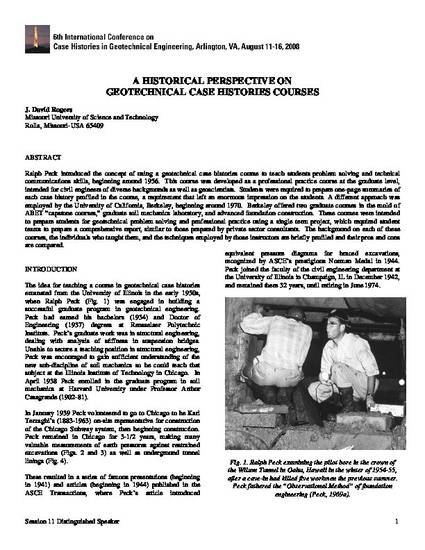 Article
A Historical Perspective on Geotechnical Case Histories Courses
International Conference on Case Histories in Geotechnical Engineering
Location
Arlington, Virginia
Date
15 Aug 2008, 1:30 pm - 3:00 pm
Abstract
Ralph Peck introduced the concept of using a geotechnical case histories course to teach students problem solving and technical communications skills, beginning around 1956. This course was developed as a professional practice course at the graduate level, intended for civil engineers of diverse backgrounds as well as geoscientists. Students were required to prepare one-page summaries of each case history profiled in the course, a requirement that left an enormous impression on the students. A different approach was employed by the University of California, Berkeley, beginning around 1970. Berkeley offered two graduate courses in the mold of ABET "capstone courses," graduate soil mechanics laboratory, and advanced foundation construction. These courses were intended to prepare students for geotechnical problem solving and professional practice using a single term project, which required student teams to prepare a comprehensive report, similar to those prepared by private sector consultants. The background on each of these courses, the individuals who taught them, and the techniques employed by those instructors are briefly profiled and their pros and cons are compared.
Department(s)
Civil, Architectural and Environmental Engineering
Second Department
Geosciences and Geological and Petroleum Engineering
Meeting Name
6th Conference of the International Conference on Case Histories in Geotechnical Engineering
Publisher
Missouri University of Science and Technology
Publication Date
8-11-2008
Document Version
Final Version
Rights
© 2008 Missouri University of Science and Technology, All rights reserved.
Creative Commons Licensing
Creative Commons Attribution-Noncommercial-No Derivative Works 4.0
Document Type
Article - Conference proceedings
Citation Information
J. David Rogers. "A Historical Perspective on Geotechnical Case Histories Courses" (2008)
Available at: http://works.bepress.com/j-rogers/3/