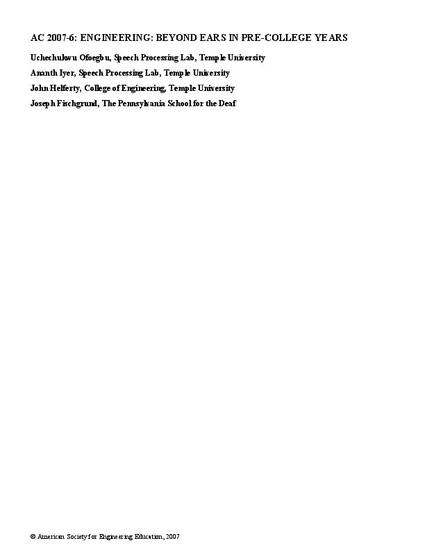 Article
Engineering: beyond ears in pre-college years
Engineering: beyond ears in pre-college years (2007)
Abstract
A 12-week program was developed in which electrical engineering concepts, in form of robotics projects, are taught to students at a secondary educational institution for the deaf and hearing impaired. The robotics course was originally designed for, and has been taught for about a decade to freshmen at the Temple University college of Engineering. The objectives of this project range from eliminating existing boundaries of engineering education to increasing the anticipation of success amongst the physically impaired. A prior breakthrough in the extension of engineering education beyond assumed "limits" was achieved when a young man who was both sight and hearing impaired earned a bachelors degree with honors from the Electrical Engineering department at Temple University. Since then, several outreach programs have been run to increase engineering awareness in the community, and this project was carried out with the same perspective in mind. In this paper, an overview of the idea of engineering education for hearing impaired pre-college students will be given. The goals of the program will also be described in detail, and didactic strategies, pedagogical considerations and empirical observations will be presented. This program, which has been run once at the Pennsylvania school for the deaf, was evaluated based on responses of the students and their science teacher. Results of the evaluation procedure will be analyzed in this paper.
Publication Date
June, 2007
Citation Information
Uchechukwu O Ofoegbu, Ananth N Iyer, John Helferty and Joseph Fischgrund. "Engineering: beyond ears in pre-college years"
Engineering: beyond ears in pre-college years
(2007)
Available at: http://works.bepress.com/iyer/18/