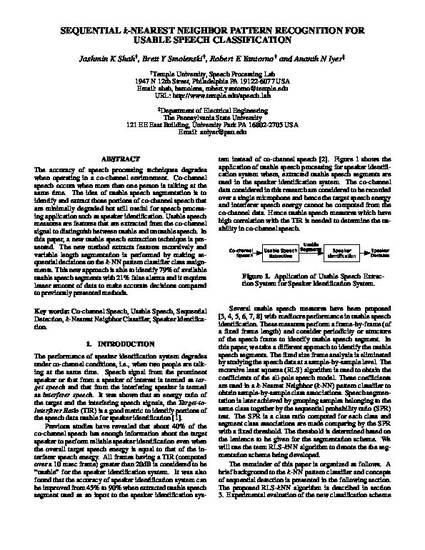 Article
Sequential k-NN pattern recognition for usable speech classification
European Signal Processing Conference (2004)
Abstract
The accuracy of speech processing techniques degrades when operating in a co-channel environment. Co-channel speech occurs when more than one person is talking at the same time. The idea of usable speech segmentation is to identify and extract those portions of co-channel speech that are minimally degraded but still useful for speech processing application such as speaker identification. Usable speech measures are features that are extracted from the co-channel signal to distinguish between usable and unusable speech. In this paper, a new usable speech extraction technique is presented. The new method extracts features recursively and variable length segmentation is performed by making sequential decisions on the k-NN pattern classifier class assignments. This new approach is able to identify 79% of available usable speech segments with 21% false alarms and it requires lesser amount of data to make accurate decisions compared to previously presented methods.
Publication Date
September, 2004
Citation Information
Jashmin K Shah, Brett Y Smolenski, Robert E Yantorno and Ananth N Iyer. "Sequential k-NN pattern recognition for usable speech classification"
European Signal Processing Conference
(2004)
Available at: http://works.bepress.com/iyer/13/