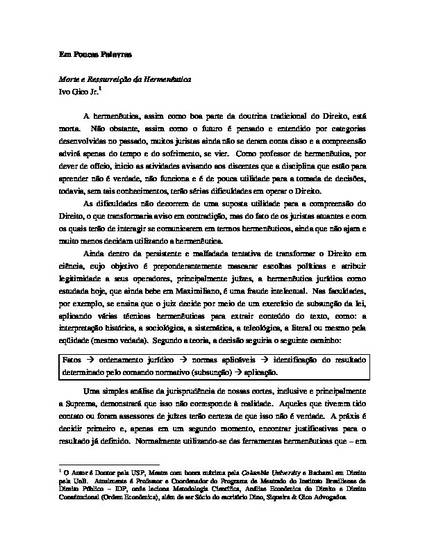 Article
Morte e Ressurreição da Hermenêutica
Revista de Direito Público (2008)
Abstract
Este artigo trata dos objetivos e utilidades da hermenêutica, seja para tomada de decisões, seja para a compreensão do que é Direito. É por meio da hermenêutica que juristas de toda sorte acreditam extrair sentido e conteúdo das normas jurídicas de modo científico, quando, na verdade, a utilizam para fundamentar sua decisão pré-concebida. É a hermenêutica verdadeiro instrumento científico para se chegar a soluções justas ou mera forma de expressão para legitimação de decisões?
This article deals with hermeneutics true objectives and utilities, either as a decision making instrument or to answer the question: What is the Law? It's through hermeneutics that researches of all kind believe they could get into the real meaning of statutes in a scientific way, although they are only using it as grounds for their already taken decision. Is hermeneutics a true scientific instrument to get to fair decisions or is it a mere way of expression to legitimate judicial decisions?
Key words: Hermeneutica, hermeneutics
Keywords
Hermeneutica,
hermeneutics
Citation Information
Ivo T. Gico. "Morte e Ressurreição da Hermenêutica"
Revista de Direito Público
(2008)
Available at: http://works.bepress.com/ivo_teixeira_gico_junior/25/