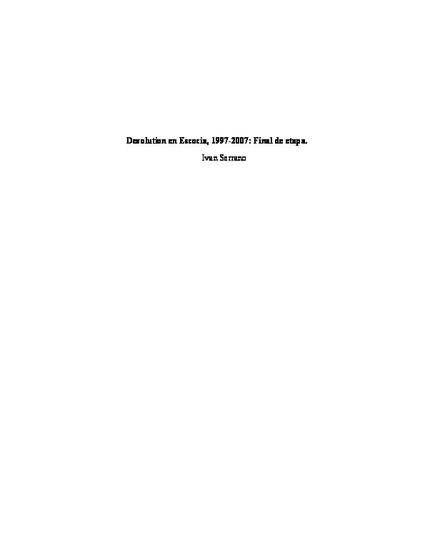 Article
Devolution en Escocia, 1997-2007: Final de etapa.
Estudios Internacionales (2008)
Abstract
The victory of the SNP in the election of 2007 gave rise to a new scenario in Scotland. However, the short majority in the Scottish parliament could be an obstacle for the SNP to push forward its pro-independence agenda. Beyond the future evolution of the Scottish question, in this article I argue that the devolution process for Scotland launched in 1997 offered elements to foresee the unstability of the arrangements, as it reinforced and institutionalized the competitive character of nationalism. Firstly, the devolution process was more a policy-centered project, and the conception of Britain as a political nation built up from cultural nations did not fill the political horizon of Scottish nationalism, and, secondly, because the positions in the Scottish society with regard to the prefered political options are too open to be accommodated within the current arrangements. Paradoxically, the SNP can achieve greater support for its political project not from an identitarian feeling of scottishness, but rather from policy delivery positively evaluated by the scottish electorate.
Keywords
Scotland,
nationalism,
devolution
Citation Information
Ivan Serrano Balaguer. "Devolution en Escocia, 1997-2007: Final de etapa."
Estudios Internacionales
Vol. 10 (2008)
Available at: http://works.bepress.com/ivan_serrano/6/