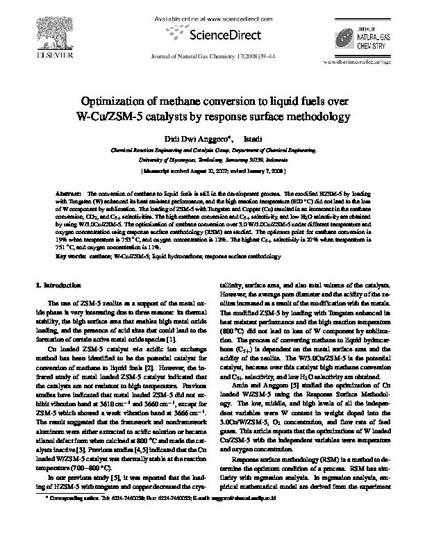 Article
Optimization of Methane Conversion to Liquid Fuels over W-Cu/ZSM5 Catalysts by Response Surface Methodology
Journal of Natural Gas Chemistry (2008)
Abstract
The conversion of methane to liquid fuels is still in the development process. The modified HZSM-5 by loading with Tungsten (W) enhanced its heat resistant performance, and the high reaction temperature (800 °C) did not lead to the loss of W component by sublimation. The loading of ZSM-5 with Tungsten and Copper (Cu) resulted in an increment in the methane conversion, CO2, and C5+ selectivities. The high methane conversion and C5+ selectivity, and low H2O selectivity are obtained by using W/3.0Cu/ZSM-5. The optimization of methane conversion over 3.0 W/3.0Cu/ZSM-5 under different temperature and oxygen concentration using response surface methodology (RSM) are studied. The optimum point for methane conversion is 19% when temperature is 753 °C, and oxygen concentration is 12%. The highest C5+ selectivity is 27% when temperature is 751 °C, and oxygen concentration is 11%.
Publication Date
May 12, 2008
Citation Information
Istadi Istadi. "Optimization of Methane Conversion to Liquid Fuels over W-Cu/ZSM5 Catalysts by Response Surface Methodology"
Journal of Natural Gas Chemistry
Vol. 17 Iss. 1 (2008)
Available at: http://works.bepress.com/istadi/14/