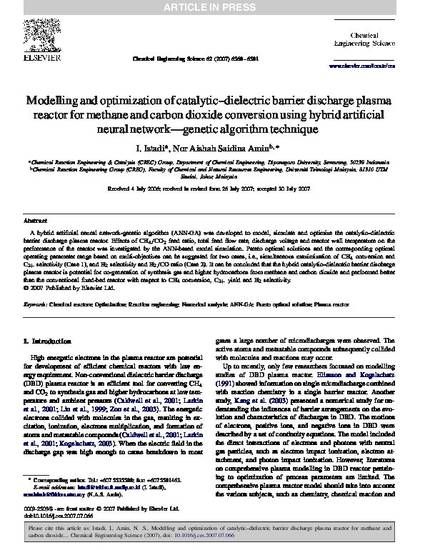 Article
Modelling and optimization of catalytic-dielectric barrier discharge plasma reactor for methane and carbon dioxide conversion using hybrid artificial neural network – Genetic algorithm technique
Chemical Engineering Science (2007)
Abstract
A hybrid Artificial Neural Network - Genetic Algorithm (ANN-GA) was developed to model, simulate and optimize the catalytic-dielectric barrier discharge plasma reactor. Effects of CH4/CO2 feed ratio, total feed flow rate, discharge voltage and reactor wall temperature on the performance of the reactor was investigated by the ANN-based model simulation. Pareto optimal solutions and the corresponding optimal operating parameter range based on multi-objectives can be suggested for two cases, i.e. simultaneous maximization of CH4 conversion and C2+ selectivity (Case 1), and H2 selectivity and H2/CO ratio (Case 2). It can be concluded that the hybrid catalytic-dielectric barrier discharge plasma reactor is potential for co-generation of synthesis gas and higher hydrocarbons from methane and carbon dioxide and performed better than the conventional fixed-bed reactor with respect to CH4 conversion, C2+ yield and H2 selectivity.
Keywords
Chemical reactors,
Optimization,
Reaction engineering,
Numerical analysis,
ANN-GA,
Pareto Optimal Solution,
Plasma Reactor
Publication Date
August, 2007
Citation Information
Istadi and Nor Aishah Saidina Amin. "Modelling and optimization of catalytic-dielectric barrier discharge plasma reactor for methane and carbon dioxide conversion using hybrid artificial neural network – Genetic algorithm technique"
Chemical Engineering Science
(2007)
Available at: http://works.bepress.com/istadi/1/