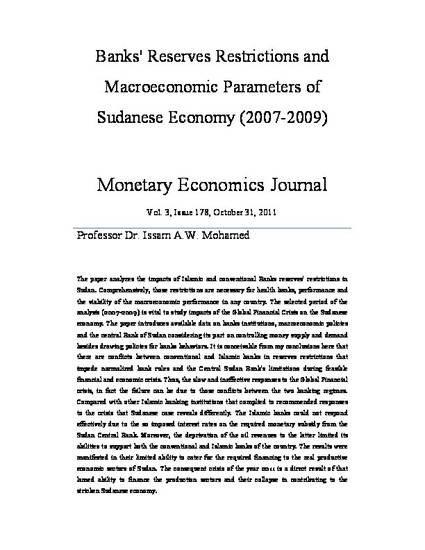 Article
Banks' Reserves Restrictions and Macroeconomic Parameters of Sudanese Economy (2007-2009)
Monetary Economics Journal (2010)
Abstract
The paper analyzes the impacts of Islamic and conventional Banks reserves' restrictions in Sudan. Comprehensively, those restrictions are necessary for health banks, performance and the viability of the macroeconomic performance in any country. The selected period of the analysis (2007-2009) is vital to study impacts of the Global Financial Crisis on the Sudanese economy. The paper introduces available data on banks institutions, macroeconomic policies and the central Bank of Sudan considering its part on controlling money supply and demand besides drawing policies for banks behaviors. It is conceivable from my conclusions here that there are conflicts between conventional and Islamic banks in reserves restrictions that impede normalized bank rules and the Central Sudan Bank's limitations during feasible financial and economic crisis. Thus, the slow and ineffective responses to the Global Financial crisis, in fact the failure can be due to those conflicts between the two banking regimes. Compared with other Islamic banking institutions that complied to recommended responses to the crisis that Sudanese case reveals differently. The Islamic banks could not respond effectively due to the so imposed interest rates on the required monetary subsidy from the Sudan Central Bank. Moreover, the deprivation of the oil revenues to the latter limited its abilities to support both the conventional and Islamic banks of the country. The results were manifested in their limited ability to cater for the required financing to the real productive economic sectors of Sudan. The consequent crisis of the year 2011 is a direct result of that lamed ability to finance the production sectors and their collapse in contributing to the stricken Sudanese economy.
Publication Date
Winter October 31, 2010
Citation Information
Professor Issam A.W. Mohamed. "Banks' Reserves Restrictions and Macroeconomic Parameters of Sudanese Economy (2007-2009)"
Monetary Economics Journal
Vol. 3 Iss. 178 (2010)
Available at: http://works.bepress.com/issamawmohamed/60/