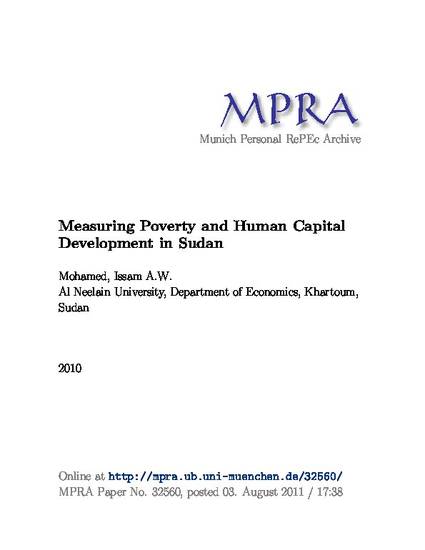 Unpublished Paper
Measuring Poverty and Human Capital Development in Sudan
Munich University Liberary, Germany (2010)
Abstract
Catastrophes in Sudan are of many dimensions. Food security is a chronic and intrinsic problem in Sub Saharan Africa which is a fact recognized by the international society. Political instability, civil wars and finally recent secession of its Southern part is another fact which may be taken as a vivid example for other regions of that previously largest African country to be followed. The present paper introduces an analysis and assessment of measurements for human development indices in Sudan. It is empirically concluded that human welfare is invisible. The parameters are very low. Strategies are needed to provide for basic services to cater for needs of the people. Without them, increasing dissatisfactions can lead to more violence and disintegration.
Keywords
Sudan,
Macroeconomic Policies,
Income Distribution,
Poverty,
Human Development Index
Citation Information
Professor Issam A.W. Mohamed. "Measuring Poverty and Human Capital Development in Sudan"
Munich University Liberary, Germany
(2010)
Available at: http://works.bepress.com/issamawmohamed/38/