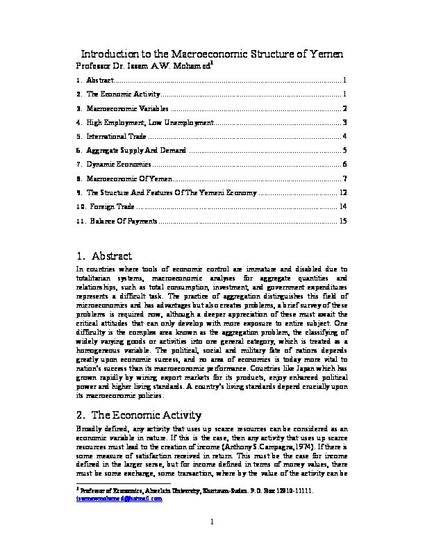 Unpublished Paper
Introduction to the Macroeconomic Structure of Yemen
Munich University Liberary, Germany (2010)
Abstract
In countries where tools of economic control are immature and disabled due to totalitarian systems, macroeconomic analyses for aggregate quantities and relationships, such as total consumption, investment, and government expenditures represents a difficult task. The practice of aggregation distinguishes this field of microeconomics and has advantages but also creates problems, a brief survey of these problems is required now, although a deeper appreciation of these must await the critical attitudes that can only develop with more exposure to entire subject. One difficulty is the complex area known as the aggregation problem, the classifying of widely varying goods or activities into one general category, which is treated as a homogeneous variable. The political, social and military fate of nations depends greatly upon economic success, and no area of economics is today more vital to nation's success than its macroeconomic performance. Countries like Japan which has grown rapidly by wining export markets for its products, enjoy enhanced political power and higher living standards. A country's living standards depend crucially upon its macroeconomic policies.
Keywords
Yemen,
Macroeconomic Policies,
Economic Performance,
Econometric analysis,
System Dynamics
Citation Information
Professor Issam A.W. Mohamed. "Introduction to the Macroeconomic Structure of Yemen"
Munich University Liberary, Germany
(2010)
Available at: http://works.bepress.com/issamawmohamed/37/