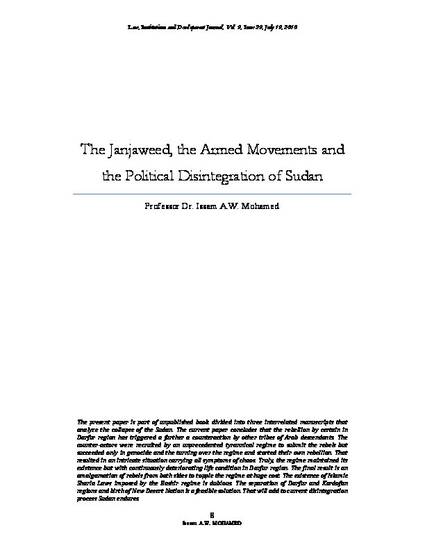 Article
The Janjaweed, the Armed Movements and the Political Disintegration of Sudan
Law, Institutions and Development Journal, Vol. 9, Issue 29, July 19, 2010 (2010)
Abstract
The present paper is part of unpublished book divided into three interrelated manuscripts that analyze the collapse of the Sudan. The current paper concludes that the rebellion by certain in Darfur region has triggered a further a counteraction by other tribes of Arab descendants. The counter-actors were recruited by an unprecedented tyrannical regime to submit the rebels but succeeded only in genocide and the turning over the regime and started their own rebellion. That resulted in an intricate situation carrying all symptoms of chaos. Truly, the regime maintained its existence but with continuously deteriorating life condition in Darfur region. The final result is an amalgamation of rebels from both sides to topple the regime at huge cost. The existence of Islamic Sharia Laws imposed by the Bashir regime is dubious. The separation of Darfur and Kordofan regions and birth of New Desert Nation is a feasible solution. That will add to current disintegration process Sudan endures.
Publication Date
Summer July 19, 2010
Citation Information
Issam A.W. Mohamed. "The Janjaweed, the Armed Movements and the Political Disintegration of Sudan"
Law, Institutions and Development Journal, Vol. 9, Issue 29, July 19, 2010
Vol. 9 Iss. 29 (2010)
Available at: http://works.bepress.com/issamawmohamed/10/