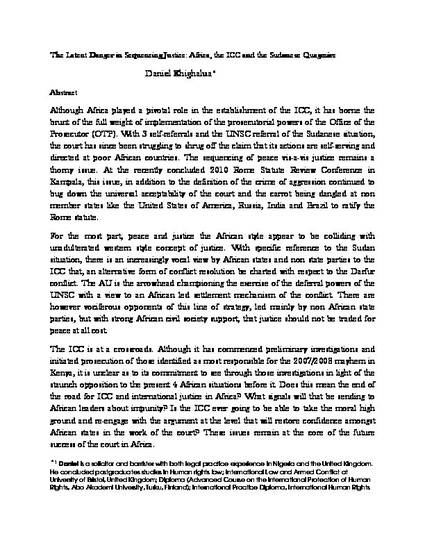 Unpublished Paper
The Latent Danger in Sequencing Justice: Africa, the ICC and the Sudanese Quagmire
ExpressO (2011)
Abstract
Abstract Although Africa played a pivotal role in the establishment of the ICC, it has borne the brunt of the full weight of implementation of the prosecutorial powers of the Office of the Prosecutor (OTP). With 3 self-referrals and the UNSC referral of the Sudanese situation, the court has since been struggling to shrug off the claim that its actions are self-serving and directed at poor African countries. The sequencing of peace vis-a-vis justice remains a thorny issue. At the recently concluded 2010 Rome Statute Review Conference in Kampala, this issue, in addition to the definition of the crime of aggression continued to bug down the universal acceptability of the court and the carrot being dangled at non member states like the United States of America, Russia, India and Brazil to ratify the Rome statute. For the most part, peace and justice the African style appear to be colliding with unadulterated western style concept of justice. With specific reference to the Sudan situation, there is an increasingly vocal view by African states and non state parties to the ICC that, an alternative form of conflict resolution be charted with respect to the Darfur conflict. The AU is the arrowhead championing the exercise of the deferral powers of the UNSC with a view to an African led settlement mechanism of the conflict. There are however vociferous opponents of this line of strategy, led mainly by non African state parties, but with strong African civil society support, that justice should not be traded for peace at all cost. The ICC is at a crossroads. Although it has commenced preliminary investigations and initiated prosecution of those identified as most responsible for the 2007/2008 mayhem in Kenya, it is unclear as to its commitment to see through those investigations in light of the staunch opposition to the present 4 African situations before it. Does this mean the end of the road for ICC and international justice in Africa? What signals will that be sending to African leaders about impunity? Is the ICC ever going to be able to take the moral high ground and re-engage with the argument at the level that will restore confidence amongst African states in the work of the court? These issues remain at the core of the future success of the court in Africa.
Publication Date
July 26, 2011
Citation Information
Iseghohime Daniel Ehighalua. "The Latent Danger in Sequencing Justice: Africa, the ICC and the Sudanese Quagmire"
ExpressO
(2011)
Available at: http://works.bepress.com/iseghohime_ehighalua/1/