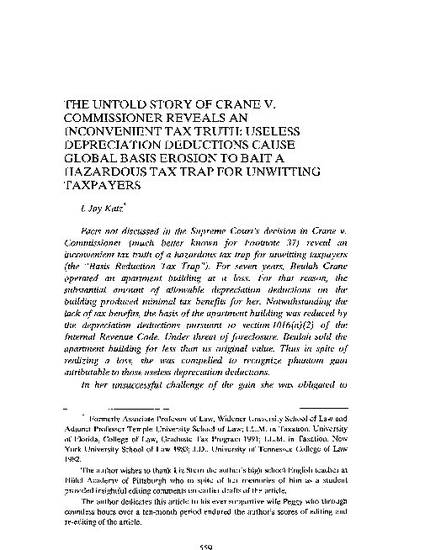 Article
The Untold Story of Crane V. Commissioner Reveals an Inconvenient Tax Truth: Useless Depreciation Deductions Cause Global Basis Erosion to Bait a Hazardous Tax Trap for Unwitting Taxpayers
Virginia Tax Review (2010)
Abstract
Facts not discussed in the Supreme Court's decision in Crane v. Commissioner (much better known for Footnote 37) reveal an inconvenient tax truth of a hazardous tax trap for unwitting taxpayers (the "Basis Reduction Tax Trap"). For seven years, Beulah Crane operated an apartment building at a loss. For that reason, the substantial amount of allowable depreciation deductions on the building produced minimal tax benefits for her. Notwithstanding the lack of tax benefits, the basis of the apartment building was reduced by the depreciation deductions pursuant to section 1016(a) (2) of the Internal Revenue Code. Under threat of foreclosure, Beulah sold the apartment building for less than its original value. Thus in spite of realizing a loss, she was compelled to recognize phantom gain attributable to those useless depreciation deductions. In her unsuccessful challenge of the gain she was obligated to recognize, Beulah did not question the propriety of the basis reduction. Yet, even had she done so, there was long-standing judicial precedent holding basis reduction was mandatory even if the corresponding depreciation deduction produced no tax benefits for the taxpayer. The underlying rationale of this judicial precedent, however, was that the mandatory basis reduction is necessary to prevent taxpayer abuse of the depreciation deduction. Conversely, in the context of the Basis Reduction Tax Trap, the abuse goes the other way, as the mandatory basis reduction causes the conversion of useless depreciation deductions into punitive phantom taxable gain. Thus, the purpose of the article is to expose the inequities of the Basis Reduction Tax Trap and to advocate the amendment of the Code by incorporating tax benefit components to eliminate it without compromising the integrity of the depreciation deduction. This could be accomplished by creating a new Gain Basis to be reduced only by those depreciation deductions that produced tax benefits. By utilizing the Gain Basis as the subtrahend in the gain computation formula, the Basis Reduction Tax Trap would be eliminated as no gain attributable to useless depreciation deductions would ever be triggered. Because current law basis would continue to serve all of its other functions, the integrity of the depreciation would be preserved from taxpayer abuse.
Keywords
Crane,
Depreciation,
Beulah,
Tax,
Supreme Court
Citation Information
I Jay Katz. "The Untold Story of Crane V. Commissioner Reveals an Inconvenient Tax Truth: Useless Depreciation Deductions Cause Global Basis Erosion to Bait a Hazardous Tax Trap for Unwitting Taxpayers"
Virginia Tax Review
Vol. 30 (2010)
Available at: http://works.bepress.com/irwin_katz/5/