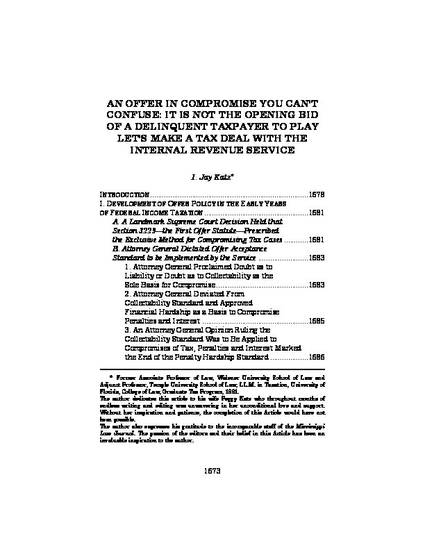 Article
An Offer in Compromise You Can't Confuse: It is not the Opening Bid of a Delinquent Taxpayer to Play Let's Make a Tax Deal with the Internal Revenue Service
Mississippi Law Journal (2012)
Abstract
Most articles written about offers in compromises read like how to primers. This article, unlike those other articles, explains what an offer in compromise is and what it is not. Starting with the premise that the IRS' primary goal is to collect the entire amount of any outstanding tax liability, an offer in compromise is not an opening bid of a delinquent taxpayer to engage in tax gamesmanship with the IRS. On the other hand, although in cases of financial hardship, an offer in compromise is a means for a taxpayer to settle her tax liability for a lesser amount, the IRS' stringent acceptance standards has made it very difficult for many taxpayers to qualify.
The article makes this case by chronicling and analyzing every major development in the evolution of offers in compromise based on doubt as to collectability issues from the infancy of Federal income taxation to the present day. The article explains why the wording of section 7122 of the Internal Revenue Code apparently providing the IRS with limitless authority to compromise tax liability is misleading. As documented in the article, based on direction from rulings from Attorney General opinions, on its own initiative and with the assistance of Congress, the IRS has exercised its authority very restrictively. Additionally, the article clearly demonstrates that in spite of apparent efforts by the IRS and Congress to liberalize the standards for offers in compromise to make them assessable to more qualified taxpayers, their overall commitment to maximum collection has never swayed very far. Thus, a reader of this article will conclude that those who believe in the false promises of the pennies on the dollar pitch men do so at their own peril.
Keywords
offer compromise Internal Revenue Service collection
Citation Information
Irwin J Katz. "An Offer in Compromise You Can't Confuse: It is not the Opening Bid of a Delinquent Taxpayer to Play Let's Make a Tax Deal with the Internal Revenue Service"
Mississippi Law Journal
Vol. 81 Iss. Number 7 (2012)
Available at: http://works.bepress.com/irwin_katz/4/