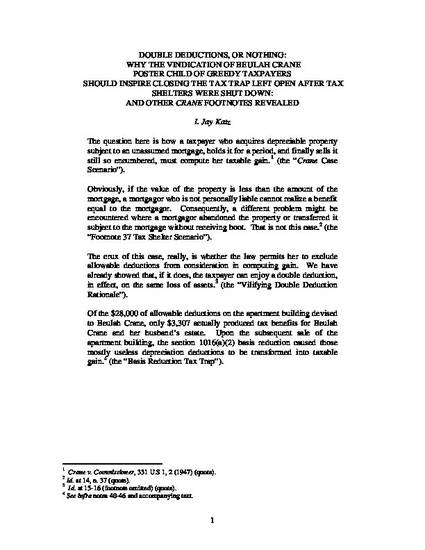 Unpublished Paper
DOUBLE DEDUCTIONS, OR NOTHING: WHY THE VINDICATION OF BEULAH CRANE POSTER CHILD OF GREEDY TAXPAYERS SHOULD INSPIRE CLOSING THE TAX TRAP LEFT OPEN AFTER TAX SHELTERS WERE SHUT DOWN: AND OTHER CRANE FOOTNOTES REVEALED
ExpressO (2010)
Abstract
Crane v. Commissioner is arguably the most celebrated case of any kind where a footnote of dictum is more relevant than the actual holding. It was the Supreme Court's famous Footnote 37 hypothetical query that gave Crane its vocabulary tax law case status. For the three decades following the decision, whether the Supreme Court's response to the query portended future judicial decisions blessing tax shelters remained an open question. Subsequently, two lower courts faced the challenge of implementing the Supreme Court's reasoning in Footnote 37 scenarios. Without appearing to overrule the Supreme Court, the courts squelched the tax shelters by relying upon a statement in Crane proclaiming the essence of the decision was to prevent Beulah Crane from receiving unwarranted double depreciation deductions. In the process, Beulah Crane was vilified as the poster child of greedy taxpayers. Ironically, Beulah's so called infamous double deductions were nonexistent. On the front end, during the ownership period of an apartment building, she received minimal tax benefits from the depreciation deductions. Then, when she sold the building, the section 1016(a)(2) basis reduction of those useless depreciation deductions caused their transformation into taxable gain. This was the tax trap Beulah fell into. So, although tax shelters were shut down, the tax trap Beulah Crane fell into remains open to this day. The purpose of this Article is to vindicate Beulah from her portrayal as a tax villainess; and, to use her story as an inspiration for Congress to implement appropriate tax benefit principles in the application the section 1016(a)(2) basis reduction so as to eliminate the tax trap that caught Beulah.
Publication Date
March 2, 2010
Citation Information
Irwin J Katz. "DOUBLE DEDUCTIONS, OR NOTHING: WHY THE VINDICATION OF BEULAH CRANE POSTER CHILD OF GREEDY TAXPAYERS SHOULD INSPIRE CLOSING THE TAX TRAP LEFT OPEN AFTER TAX SHELTERS WERE SHUT DOWN: AND OTHER CRANE FOOTNOTES REVEALED"
ExpressO
(2010)
Available at: http://works.bepress.com/irwin_katz/3/