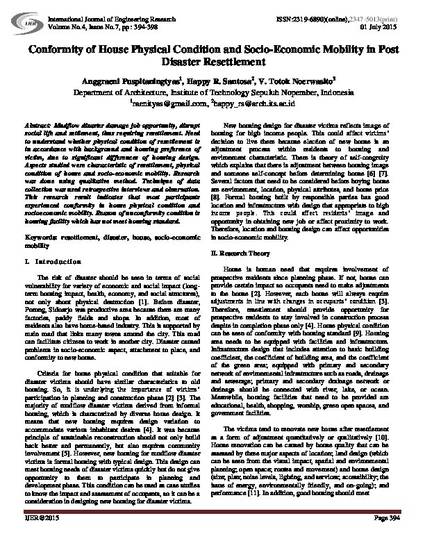 Article
Conformity of House Physical Condition and Socio-Economic Mobility in Post Disaster Resettlement
International Journal of Engineering Research (2015)
Abstract
Mudflow disaster damage job opportunity, disrupt social life and settlement, thus requiring resettlement. Need to understand whether physical condition of resettlement is in accordance with background and housing preference of victim, due to significant differences of housing design. Aspects studied were characteristic of resettlement, physical condition of house and socio-economic mobility. Research was done using qualitative method. Technique of data collection was used retrospective interviews and observation. This research result indicates that most participants experienced conformity in house physical condition and socioeconomic mobility. Reason of unconformity condition is housing facility which has not meet housing standard.
Keywords
resettlement,
disaster,
house,
socio-economic mobility
Publication Date
Summer July 1, 2015
Citation Information
Anggraeni Puspitaningtyas, Happy R Santosa and V. Totok Noerwasito. "Conformity of House Physical Condition and Socio-Economic Mobility in Post Disaster Resettlement"
International Journal of Engineering Research
Vol. 4 Iss. 7 (2015)
Available at: http://works.bepress.com/irpindia/377/