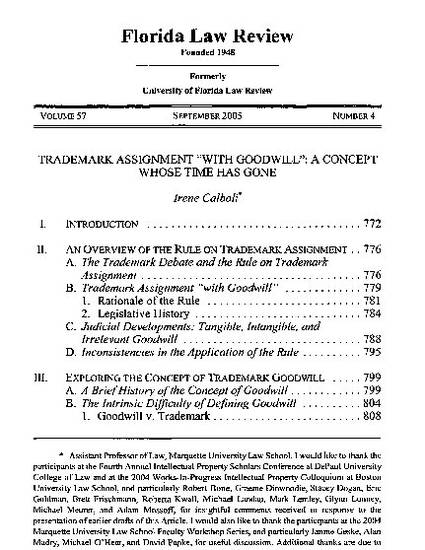 Article
Trademark Assignment with Goodwill: A Concept Whose Time Has Gone
Florida Law Review
Abstract
Historically, starting from the premise that trademark protection is about consumer welfare, trademark law has required trademarks to be assigned with the goodwill of the business to which they refer, to deter assignees from changing the quality of the marked products. Yet, ever since its adoption, this rule has been hard to enforce because it hinges on a concept that is ambiguous and difficult to frame in a legislative context: trademark goodwill. Additionally, regardless of this rule, trading in trademarks has been a recurrent practice in the business world, and trademark practices have traditionally provided instruments to assist this trade. Unsurprisingly, the consequence has been inconsistent case law. More recently, the discrepancy between the rule and its enforcement has escalated, with the courts de facto drifting away from the goodwill requirement in assessing the validity of trademark assignments. Still, this trend has not established a clear path to what represents a valid assignment, and much confusion continues to surround the application of the rule. Arguing against this situation, this Article advocates for an amendment allowing free trademark transferability or assignment with or without goodwill. In support of this change, and despite common skepticism, this Article offers evidence that this amendment will not diminish but will likely foster consumer protection and competition in the marketplace.
Citation Information
Irene Calboli. "Trademark Assignment with Goodwill: A Concept Whose Time Has Gone"
Florida Law Review
Vol. 57 (2005) p. 771
Available at: http://works.bepress.com/irene_calboli/28/