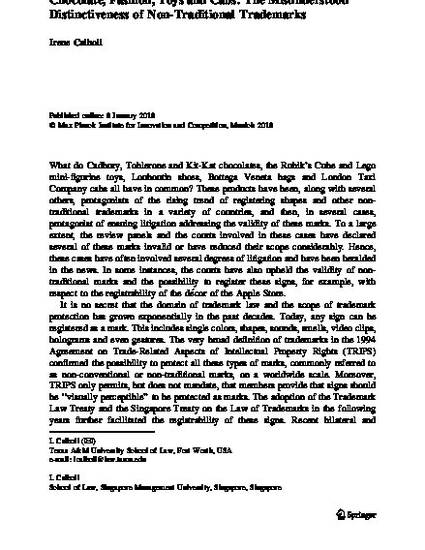 Article
Chocolate, Fashion, Toys and Cabs: The Misunderstood Distinctiveness of Non-Traditional Trademarks
International Review of Intellectual Property & Competition Law
DOI
10.1007/s40319-017-0667-x
Abstract
Editorial Excerpt:
What do Cadbury, Toblerone and Kit-Kat chocolates, the Rubik's Cube and Lego mini-figurine toys, Louboutin shoes, Bottega Veneta bags and London Taxi Company cabs all have in common? These products have been, along with several others, protagonists of the rising trend of registering shapes and other non-traditional trademarks in a variety of countries, and then, in several cases, protagonist of ensuing litigation addressing the validity of these marks. To a large extent, the review panels and the courts involved in these cases have declared several of these marks invalid or have reduced their scope considerably. Hence, these cases have often involved several degrees of litigation and have been heralded in the news. In some instances, the courts have also upheld the validity of non-traditional marks and the possibility to register these signs, for example, with respect to the registrability of the décor of the Apple Store.
Short Title
Chocolate, Fashion, Toys and Cabs
Notes
Editorial published open access. Publisher's version of record located at: https://doi.org/10.1007/s40319-017-0667-x
Citation Information
Irene Calboli. "Chocolate, Fashion, Toys and Cabs: The Misunderstood Distinctiveness of Non-Traditional Trademarks"
International Review of Intellectual Property & Competition Law
Vol. 49 Iss. 1 (2018) p. 1 - 4
Available at: http://works.bepress.com/irene_calboli/131/