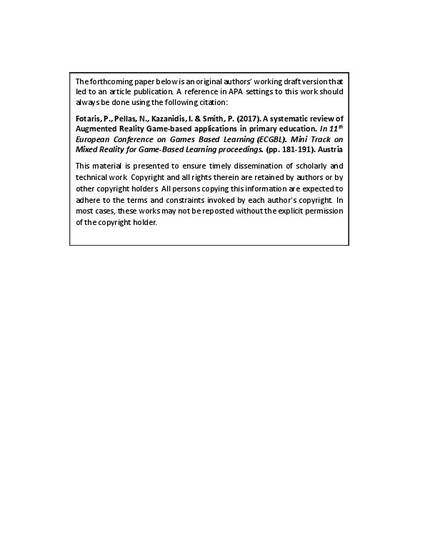 Article
A systematic review of Augmented Reality game in primary education.pdf
11th European Conference on Games Based Learning (ECGBL) (2017)
Abstract
Augmented Reality game-based learning (ARGBL) is quickly gaining momentum in the education sector worldwide as it has the potential to enable new forms of learning and transform the learning experience. However, it remains unclear how ARGBL applications can impact students' motivation and performance in primary education. This study addresses that topic by providing a systematic review, which analyses and critically appraises the current state of knowledge and practice in the use of ARGBL applications in primary education. In total, seventeen (17) studies that used either qualitative, quantitative, or mixed-methods to collect their data were analysed and were published between 2012 and 2017. The study results indicated that ARGBL applications are mainly used to document the design and development process, as well as to share preliminary findings and student feedback. Based on a comprehensive taxonomy of application areas for AR in primary education, ARGBL can potentially influence the students' attendance, knowledge transfer, skill acquisition, hands-on digital experience, and positive attitudes in laboratory experimental exercises for different courses. This review aims to offer new insights to researchers and provide educators with effective advice and suggestions on how to improve learning outcomes, as well as increase students' motivation and learning performance by incorporating this instructional model into their teaching.
Keywords
Augmented Reality,
Game-based learning,
primary education,
Mixed Reality,
Mobile learning
Publication Date
Winter October 10, 2017
Citation Information
Panagiotis Fotaris, Nikolaos Pellas, Ioannis Kazanidis and Paul Smith. "A systematic review of Augmented Reality game in primary education.pdf"
11th European Conference on Games Based Learning (ECGBL)
(2017)
Available at: http://works.bepress.com/ioannis-kazanidis/2/