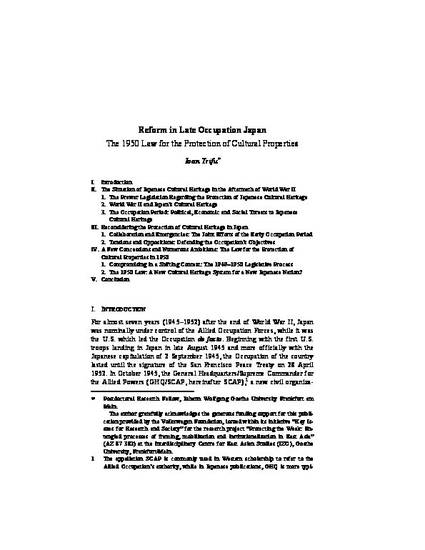 Article
Reform in Late Occupation Japan: The 1950 Law for the Protection of Cultural Properties
Journal of Japanese Law (2017)
Abstract
Following its defeat in World War II, Japan fell under the control of the Allied armed forces in the last days of August 1945. The Occupation of the country was rapidly supervised by the Supreme Commander for the Allied Powers (SCAP), an organization largely dominated by American staff. Lasting almost seven years (1945–1952), this period of U.S.-led foreign administration witnessed drastic changes for Japan. Some of them were forced by the Occupation authorities, especially in the early years, in order to reach their initial objectives of transforming the former enemy nation into a democratic and peace-loving country. Other reforms were promoted by the Japanese government, wishing to satisfy the new dominant power – SCAP – at the lowest political cost. Most reforms,however, were the result of joint works by both sides aiming to rebuild an ailing country. The relations between SCAP and the Japanese side took a vast plurality of forms. They were particularly impacted by the abrupt changes of events in East Asia from 1948 onward, when it became more urgent than ever to accelerate the political and economic strengthening of Japan. During these years of Occupation, culture was perceived by the U.S. side as a strategic tool to convert Japanese to new attitudes supportive of U.S. actions and interests. In the wide field of cultural policies, the protection of cultural heritage appears as a particular case. Despite the massive challenges of the war's consequences and the Occupation's harsh conditions, the major reform of the Japanese system, the Law for the Protection of Cultural Properties, was enacted in 1950, just two years before the San Francisco Peace Treaty of 1952 ended the Occupation. Furthermore, the legal reform was initiated and proposed neither by SCAP nor the Japanese government, but by Japanese Diet members overwhelmed by the fire incident which ravaged the Hōryū-ji in January 1949. At the crossroads of political history and political science, this article investigates how the protection of cultural heritage has been reformed in Occupied Japan. After describing the critical situation of Japan's historical objects and buildings after the war, the research looks to the extensive collaboration between the American and Japanese sides, a collaboration also marked by some tensions and conflicts. From there, the article examines the compromises which were made during the legislative process and the ambitions which were pursued by the new Law. I argue that the multiple and constant interaction between those working in favor of Japanese cultural heritage on both sides of the Occupation was – as greatly facilitated by the late timing of the reform – eventually the decisive factor in shaping the Law for the Protection of Cultural Properties adopted in 1950.
Citation Information
Ioan Trifu. "Reform in Late Occupation Japan: The 1950 Law for the Protection of Cultural Properties"
Journal of Japanese Law
Vol. 22 Iss. 43 (2017) p. 205 - 230
Available at: http://works.bepress.com/ioan-trifu/1/