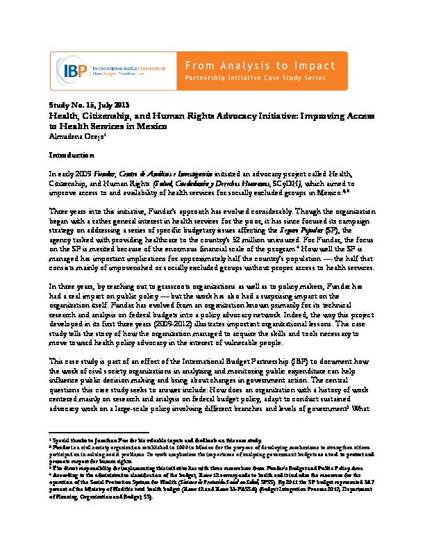 Article
Health, Citizenship, and Human Rights Advocacy Initiative: Improving Access to Health Services in Mexico
IBP Case Studies (2013)
Abstract
When it comes to health care in Mexico, "universal" has never meant equal, particularly when it came to the access to adequate care for the country's 52 million uninsured. Civil society organization Fundar — a research organization with a background in budgetary analysis — developed a successful advocacy strategy on health policy to change this.
The full version and short summary of this case study are available in English.
LINK: http://internationalbudget.org/publications/health-citizenship-and-human-rights-advocacy-initiative-improving-access-to-health-services-in-mexico/
Keywords
Case Study,
Public Health Advocacy and Policy,
Governance,
Transparency,
Accountability,
Participatory Democracy,
Finance,
Fundar,
Centro De Análisis E Investigación,
Civil Society Organizations,
Health and Human Rights,
Government Accountability,
Transparency,
Mexico,
International Budget Partnership,
Health Care Service Access and Utilization
Publication Date
July, 2013
Citation Information
Almudena Ocejo and International Budget Partnership. "Health, Citizenship, and Human Rights Advocacy Initiative: Improving Access to Health Services in Mexico"
IBP Case Studies
(2013)
Available at: http://works.bepress.com/internationalbudgetpartnership/5/