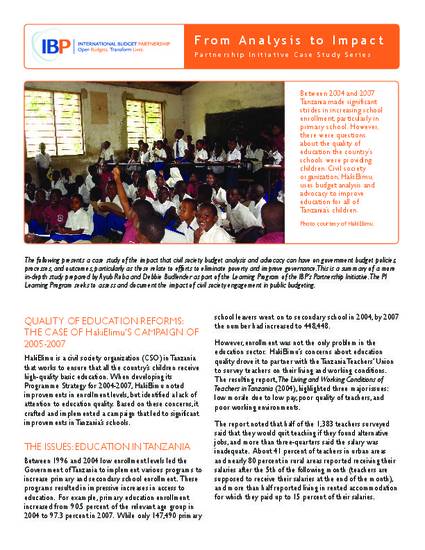 Article
Quality of Education Reforms: The Case of HakiElimu's Campaign of 2005-2007
IBP Case Studies (2010)
Abstract
HakiElimu is a civil society organization in Tanzania that works to ensure that all the country's children receive high-quality basic education. When developing its Programme Strategy for 2004-2007, HakiElimu noted improvements in enrollment levels, but identified a lack of attention to education quality. This case study describes the campaign that led to improvements in Tanzania's schools.
A short summary and one page summary of this case study are available in English. Summaries are also available in Spanish, French, Arabic, and Chinese.
LINK: http://internationalbudget.org/publications/quality-of-education-reforms-the-case-of-hakielimus-campaign-of-2005-2007/
Keywords
Accountability,
Governance,
Transparency,
Accountability,
Participatory Democracy,
Finance,
Transparency,
Budget Transparency,
Civil Society Organizations,
Education Policy In Tanzania,
HakiElimu,
Tanzania,
Case Study,
International Budget Partnership
Publication Date
June, 2010
Citation Information
International Budget Partnership. "Quality of Education Reforms: The Case of HakiElimu's Campaign of 2005-2007"
IBP Case Studies
(2010)
Available at: http://works.bepress.com/internationalbudgetpartnership/20/