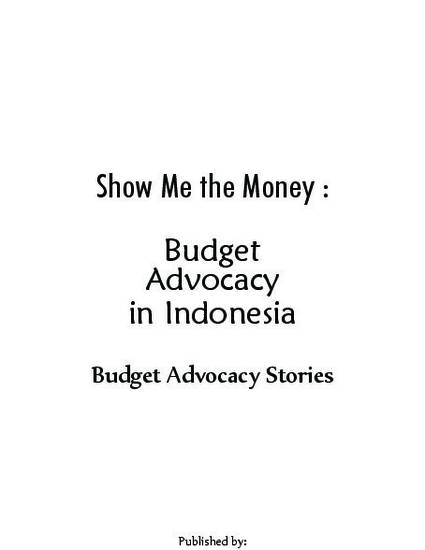 Article
Show Me the Money: Budget Advocacy in Indonesia
IBP Case Studies (2011)
Abstract
In "Show Me the Money: Budget Advocacy in Indonesia," authors from five civil society organizations – IDEA, the Inisiatif Association, Lakpesdam NU, the Centre for Information and Regional Studies (PATTIRO), and the Indonesian Forum for Budget Transparency (FITRA) – present five case studies on their budget work to fight against corruption and improve the allocation of government resources, and five case studies from smaller organizations based in various local districts in the country.
In addition, check out the related two-page summaries that explore the impact of civil society budget work in Indonesia to improve policies and outcomes in school funding, support for agriculture, and public financial management by local government.
LINK: http://internationalbudget.org/publications/show-me-the-money-budget-advocacy-in-indonesia/
Keywords
Governance,
Transparency,
Accountability,
Participatory Democracy,
Finance,
Transparency,
Budget Transparency,
Anti-Corruption,
Case Study,
Civil Society Organizations,
International Budget Partnership,
Indonesia
Publication Date
June, 2011
Citation Information
International Budget Partnership. "Show Me the Money: Budget Advocacy in Indonesia"
IBP Case Studies
(2011)
Available at: http://works.bepress.com/internationalbudgetpartnership/18/