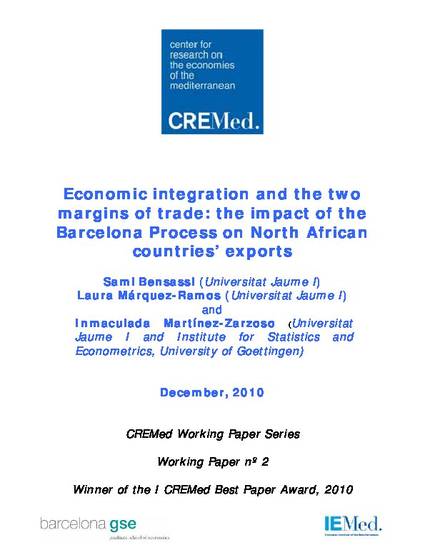 Unpublished Paper
Economic integration and the two margins of trade: An application to the Euro-Mediterranean agreements
CREMed Best Paper Award Winner, WP 2, December 2010 (2010)
Abstract
According to trade theory preferential trade agreements increase international trade through a reduction in artificial trade barriers. In recently developed models with imperfect competition and heterogeneous firms, lower trade costs increase bilateral trade through an increase in the number of exporting firms (the extensive margin of trade) and a rise in the mean value of individual shipments (the intensive margin of trade). In this paper, a decomposition of a structural gravity equation derived from Chaney's (2008) model is presented. Using highly disaggregated export data for six countries (Algeria, Egypt, Jordan, Lebanon, Morocco and Tunisia) between 1995 and 2008, we estimate the impact of the recently signed trade agreements with the EU on both trade margins and we provide empirical evidence of the validity of the theoretical predictions.
Keywords
Euro-Mediterranean agreements,
trade integration,
intensive and extensive margins.
Citation Information
Sami Bensassi, Inma Martinez-Zarzoso and Laura Marquez-Ramos. "Economic integration and the two margins of trade: An application to the Euro-Mediterranean agreements"
CREMed Best Paper Award Winner, WP 2, December 2010
(2010)
Available at: http://works.bepress.com/inma_martinez_zarzoso/21/