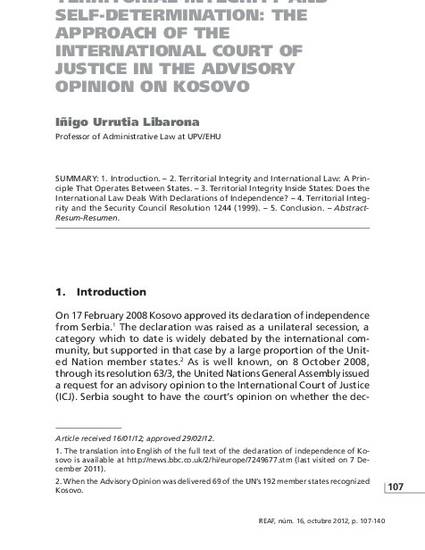 Article
Territorial Integrity and Self-Determination: The Approach of the International Court of Justice in the Advisory Opinion on Kosovo
REAF-Revista d'Estudis Autonòmics i Federals (2012)
Abstract
On 17 February 2008 Kosovo approved its declaration of independence from Serbia. The declaration was raised as a unilateral secession, a category which to date is widely debated by the international community, but supported in that case by a respectable number of the United Nation member states. A great many legal issues have been raised by the International Court of Justice's Advisory Opinion on Kosovo. This opinion was eagerly awaited by legal scholars due to both its possible effects and the scope of its principles outside the context of decolonization in what it could constitute of new approach to the international scenario for the twenty-first century. The ICJ stated that the declaration of independence was in accordance with international law if it was not prohibited. The answer turned on whether or not international law prohibited the declaration of independence, without ever examining whether an entity seeking secession is entitled with a positive right to secede and if so, under which circumstances. The basic issue can be summarised as whether or not we are facing a new course in the interpretation of certain classical categories of international law: the principle of territorial integrity, statehood, sovereignty, recognition, the right to external self-determination, etc. In this study we shall analyse some of the aspects arising from the Advisory Opinion of the International Court of Justice on the Accordance with international law of the unilateral declaration of independence in respect of Kosovo focusing on the territorial issue. Firstly we shall analyse the scope of the principle of territorial integrity of States and how it operates; secondly, we shall focus on the scope of that principle in relation to the interior of the State, and ask ourselves how international law operates in relation to declarations of independence. Lastly, we shall deal with the principle of respect for territorial integrity in the specific case of Serbia with respect to Kosovo, and then end with a series of general conclusions. This study aims, definitely, to contribute to the theoretical debate on the challenges to the traditional certainties of international law in this area.
Keywords
Self-Determination,
Kosovo,
Territorial Integrity,
independence,
secession
Publication Date
Fall October, 2012
Citation Information
Iñigo URRUTIA. "Territorial Integrity and Self-Determination: The Approach of the International Court of Justice in the Advisory Opinion on Kosovo"
REAF-Revista d'Estudis Autonòmics i Federals
Vol. 16 (2012)
Available at: http://works.bepress.com/inigo_urrutia/5/