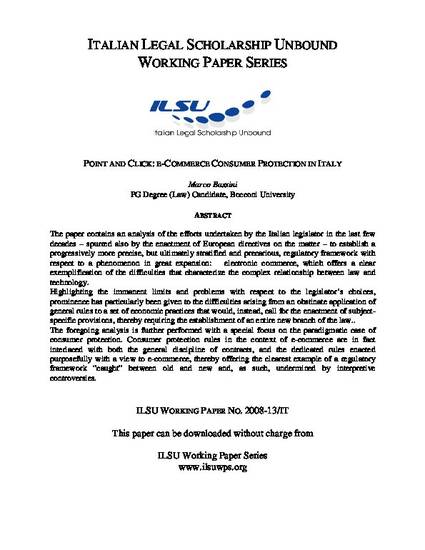 Article
Point and Click: e-Commerce Consumer Protection in Italy
Italian Legal Scholarship Unbound Working Paper Series (2008)
Abstract
The paper contains an analysis of the efforts undertaken by the Italian legislator in the last few decades – spurred also by the enactment of European directives on the matter – to establish a progressively more precise, but ultimately stratified and precarious, regulatory framework with respect to a phenomenon in great expansion: electronic commerce, which offers a clear exemplification of the difficulties that characterize the complex relationship between law and technology.
Highlighting the immanent limits and problems with respect to the legislator's choices, prominence has particularly been given to the difficulties arising from an obstinate application of general rules to a set of economic practices that would, instead, call for the enactment of subject-specific provisions, thereby requiring the establishment of an entire new branch of the law.
The foregoing analysis is further performed with a special focus on the paradigmatic case of consumer protection. Consumer protection rules in the context of e-commerce are in fact interlaced with both the general discipline of contracts, and the dedicated rules enacted purposefully with a view to e-commerce, thereby offering the clearest example of a regulatory framework "caught" between old and new and, as such, undermined by interpretive controversies.
Note: downloadable document is in Italian
Keywords
e-Commerce,
consumer protection,
d.lgs. 50/92,
d.lgs. 185/99,
d.lgs. 70/93
Citation Information
Marco Bassini,
Point and Click: e-Commerce Cunsumer Protection in Italy
,
ILSU Working Paper No. 2008-13/IT (2008)
,
available at
http://works.bepress.com/ilsu_working_paper_series/12/