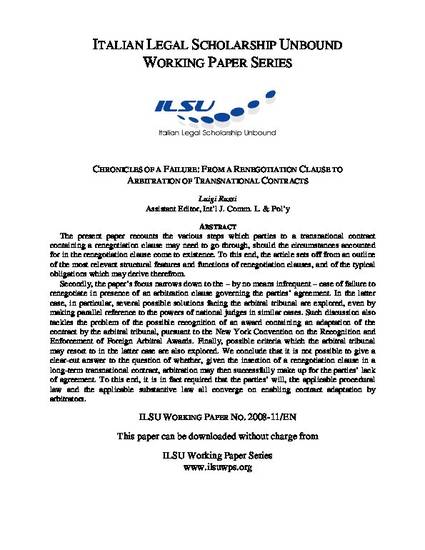 Article
Chronicles of a Failure: From a Renegotiation Clause to Arbitration of Transnational Contracts
Italian Legal Scholarship Unbound Working Paper Series (2008)
Abstract
The present paper recounts the various steps which parties to a transnational contract containing a renegotiation clause may need to go through, should the circumstances accounted for in the renegotiation clause come to existence. To this end, the article sets off from an outline of the most relevant structural features and functions of renegotiation clauses, and of the typical obligations which may derive therefrom.
Secondly, the paper's focus narrows down to the - by no means infrequent - case of failure to renegotiate in presence of an arbitration clause governing the parties' agreement. In the latter case, in particular, several possible solutions facing the arbitral tribunal are explored, even by making parallel reference to the powers of national judges in similar cases. Such discussion also tackles the problem of the possible recognition of an award containing an adaptation of the contract by the arbitral tribunal, pursuant to the New York Convention on the Recognition and Enforcement of Foreign Arbitral Awards. Finally, possible criteria which the arbitral tribunal may resort to in the latter case are also explored. We conclude that it is not possible to give a clear-cut answer to the question of whether, given the insertion of a renegotiation clause in a long-term transnational contract, arbitration may then successfully make up for the parties' lack of agreement. To this end, it is in fact required that the parties' will, the applicable procedural law and the applicable substantive law all converge on enabling contract adaptation by arbitrators.
Note: this paper is forthcoming in 24 CONNECTICUT JOURNAL OF INTERNATIONAL LAW (2008)
Keywords
Arbitration,
Renegotiation clauses,
Contract adjustment,
Aminoil,
Westinghouse,
Force Majeure,
Lex mercatoria,
ICC Arbitration,
Anational Arbitration,
ALCOA v Essex,
EDF v. Shell Franýaise,
New York Convention on the Recognition and Enforcement of Foreign Arbitral Awards
Citation Information
Luigi Russi,
Chronicles of a Failure: From a Renegotiation Clause to Arbitration of Transnational Contracts
,
ILSU Working Paper No.
2008-11/EN (2008),
available at
http://works.bepress.com/ilsu_working_paper_series/10