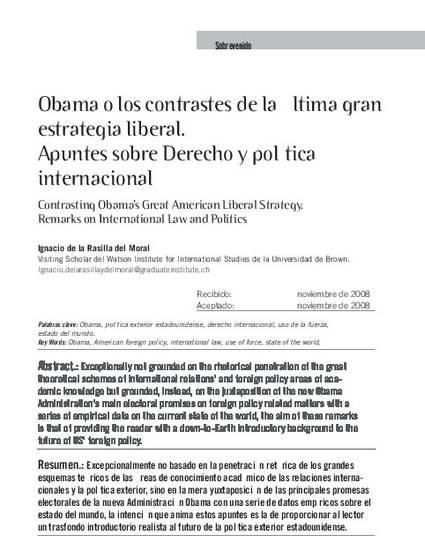 Article
Obama o los contrastes de la última gran estrategia liberal. Apuntes sobre Derecho y política internacional
Revista Internacional de Pensamiento Político (2009)
Abstract
Exceptionally not grounded on the rhetorical penetration of the great theoretical schemes of international relations' and foreign policy areas of academic knowledge, but relying, instead, on the juxtaposition of the new Obama Administration's main electoral promises on foreign policy with a series of empirical data on the current state of the world, the aim of these remarks - written in the eve of the Presidential Election of November 2008 - is that of providisng the non-specialist with a down-to-Earth introductory background to the future of US' foreign policy during Obama's presidency.
Citation Information
Ignacio de la Rasilla del Moral. "Obama o los contrastes de la última gran estrategia liberal. Apuntes sobre Derecho y política internacional"
Revista Internacional de Pensamiento Político
Iss. IV (2009)
Available at: http://works.bepress.com/ignacio_de_la_rasilla_del_moral/4/