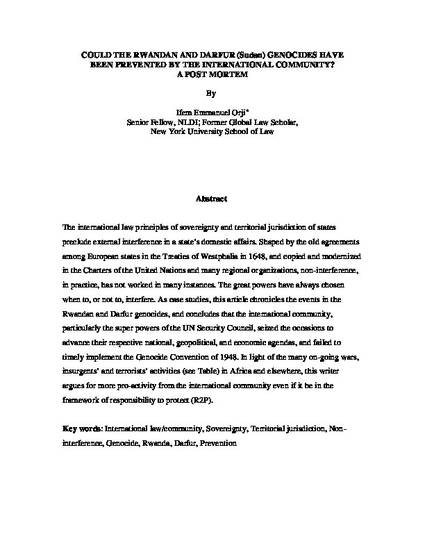 Unpublished Paper
Could the Rwandan and Darfur (Sudan) Genocides have been Prevented by the International Community? A Postmortem
ExpressO (2015)
Abstract
The international law principles of sovereignty and territorial jurisdiction of states preclude external interference in a state's domestic affairs. Shaped by the old agreements among European states in the Treaties of Westphalia in 1648, and copied and modernized in the Charters of the United Nations and many regional organizations, non-interference, in practice, has not worked in many instances. The great powers have always chosen when to, or not to, interfere. As case studies, this article chronicles the events in the Rwandan and Darfur genocides, and concludes that the international community, particularly the super powers of the UN Security Council, seized the occasions to advance their respective national, geopolitical, and economic agendas, and failed to timely implement the Genocide Convention of 1948. In light of the many on-going wars, insurgents' and terrorists' activities (see Table) in Africa and elsewhere, this writer argues for more pro-activity from the international community even if it be in the framework of responsibility to protect (R2P).
Keywords
International law/community,
Sovereignty,
Territorial jurisdiction,
Non-interference,
Genocide,
Rwanda,
Darfur,
Prevention
Publication Date
February 6, 2015
Citation Information
Ifem E Orji. "Could the Rwandan and Darfur (Sudan) Genocides have been Prevented by the International Community? A Postmortem"
ExpressO
(2015)
Available at: http://works.bepress.com/ifem_orji/1/