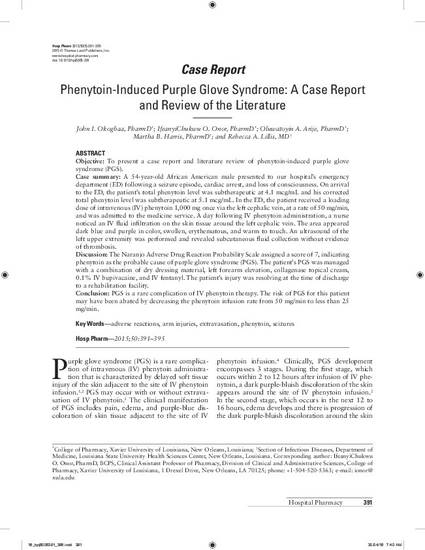 Article
Phenytoin-Induced Purple Glove Syndrome: A Case Report and Review of the Literature
Hospital Pharmacy (2015)
Abstract
OBJECTIVE:
To present a case report and literature review of phenytoin-induced purple glove syndrome (PGS).
CASE SUMMARY:
A 54-year-old African American male presented to our hospital's emergency department (ED) following a seizure episode, cardiac arrest, and loss of consciousness. On arrival to the ED, the patient's total phenytoin level was subtherapeutic at 4.1 mcg/mL and his corrected total phenytoin level was subtherapeutic at 5.1 mcg/mL. In the ED, the patient received a loading dose of intravenous (IV) phenytoin 1,000 mg once via the left cephalic vein, at a rate of 50 mg/min, and was admitted to the medicine service. A day following IV phenytoin administration, a nurse noticed an IV fluid infiltration on the skin tissue around the left cephalic vein. The area appeared dark blue and purple in color, swollen, erythematous, and warm to touch. An ultrasound of the left upper extremity was performed and revealed subcutaneous fluid collection without evidence of thrombosis.
DISCUSSION:
The Naranjo Adverse Drug Reaction Probability Scale assigned a score of 7, indicating phenytoin as the probable cause of purple glove syndrome (PGS). The patient's PGS was managed with a combination of dry dressing material, left forearm elevation, collagenase topical cream, 0.1% IV bupivacaine, and IV fentanyl. The patient's injury was resolving at the time of discharge to a rehabilitation facility.
CONCLUSION:
PGS is a rare complication of IV phenytoin therapy. The risk of PGS for this patient may have been abated by decreasing the phenytoin infusion rate from 50 mg/min to less than 25 mg/min.
Keywords
adverse reactions,
arm injuries,
extravasation,
phenytoin,
seizures
Publication Date
May, 2015
Citation Information
John I Okogbaa, Ifeanyi O Onor, Oluwatoyin A Arije, Martha B Harris, et al.. "Phenytoin-Induced Purple Glove Syndrome: A Case Report and Review of the Literature"
Hospital Pharmacy
Vol. 50 Iss. 5 (2015)
Available at: http://works.bepress.com/ifeanyionor/4/