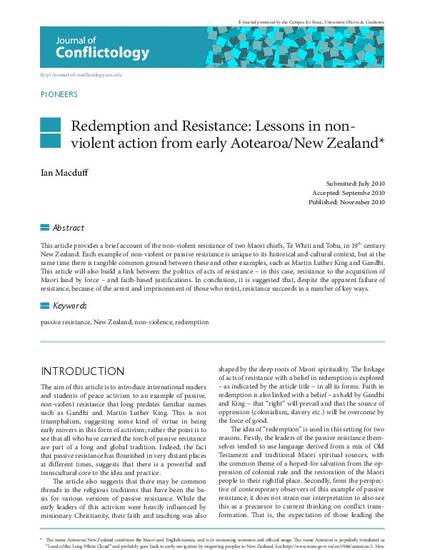 Article
Redemption and Resistance: Lessons in Non-Violent Action from Early Aotearoa/New Zealand
Journal of Conflictology
Publication Type
Journal Article
Version
Publisher's Version
Abstract
This article provides a brief account of the non-violent resistance of two Maori chiefs, Te Whiti and Tohu, in 19th century New Zealand. Each example of such non-violent or passive resistance is unique to its historical and cultural context; but at the same time there is a tangible common ground between this example and those found elsewhere, such as Martin Luther King and Gandhi. This article will also draw a link between the politics of acts of resistance – in this case, resistance to the forceful acquisition of Maori land – and faith-based justifications. In conclusion, it will be suggested that, despite the apparent failure of resistance, because of the arrest and imprisonment of resisters, there are key ways in which such resistance succeeds.
Keywords
Passive resistance,
New Zealand,
non-violence,
redemption
Identifier
10.7238/joc.v1i2.994
Publisher
Open University of Catalonia
Copyright Owner and License
Author
Creative Commons License
Creative Commons Attribution-Noncommercial-No Derivative Works 4.0
Additional URL
http://journal-of-conflictology.uoc.edu/joc/ca/index.php/journal-of-conflictology/article/view/vol1iss2-macduff.html
Citation Information
Ian MACDUFF. "Redemption and Resistance: Lessons in Non-Violent Action from Early Aotearoa/New Zealand"
Journal of Conflictology
Vol. 1 Iss. 2 (2010) p. 62 - 69 ISSN: 2013-8857
Available at: http://works.bepress.com/ian_macduff/10/